NFL Analyst Questions Jimmy Garoppolo-49ers' Future Together
Published 03/28/2021, 1:42 PM EDT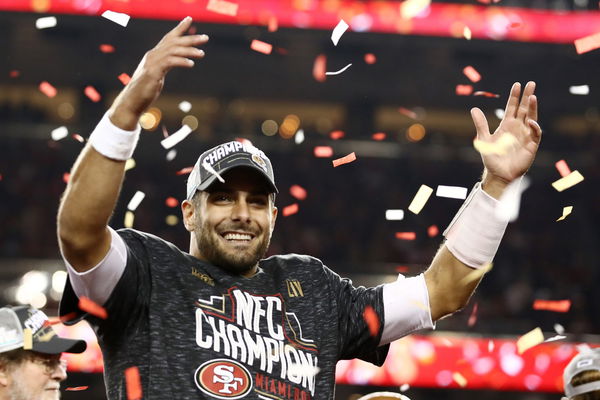 ---
---
Jimmy Garoppolo came to the San Francisco 49ers with great excitement behind him. Many felt Jimmy G didn't get a fair shake in New England, thanks to the dominance of Tom Brady.
ADVERTISEMENT
Article continues below this ad
But he was set to be the man with the 49ers. And while injuries have played a role in his stint, he was able to take the franchise to the Super Bowl. But could this be the end of Jimmy G in San Francisco?
NFL analyst Mike Maiocco spoke on the future of Jimmy Garoppolo. He noted that the 49ers have not been doing anything with Jimmy G that suggests he is still their starting quarterback.
ADVERTISEMENT
Article continues below this ad
Most notably, them trading up to get the #3 pick in this year's draft. It appears as though they don't have a solid plan for Jimmy going forward, and could look to off-load him.
"The 49ers actions made that clear when they traded up for the number three pick. If a quarterback is your guy, he's not just your guy for that season.
"He is your guy for the long term. And the 49ers have him under contract for this year and the next year. But clearly the signal is Jimmy is our guy for as long as he's our guy. He's not going to be their guy much longer. He's not going to be their guy looking to 2022."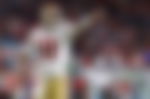 Jimmy Garoppolo on the verge of leaving San Francisco?
Maiocco compared the situation to that of Alex Smith and the Kansas City Chiefs. Smith was the starting quarterback for the franchise when they drafted Patrick Mahomes in 2017.
And while Mahomes was making some strides, Smith was still the starting quarterback for the franchise. However, it seems like Garoppolo isn't on the same path with the San Francisco 49ers.
"The template for this was what the Chiefs did when they had Alex Smith coming off a very good season. Patrick Mahomes, they traded up to get him. And then, Alex Smith remained the starting quarterback one more year.
"But the other fact to this, is that if that rookie comes in, and lights it up in training camp, and the 49ers feel like he is the better guy, then Jimmy Garoppolo is gone before the season starts."
ADVERTISEMENT
Article continues below this ad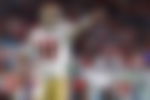 Where will Jimmy Garoppolo end up before the start of the new season? It appears as though the franchise will use the #3 pick to select one of the top quarterback prospects.
This move could spell the end for Jimmy G being the 49ers' quarterback. However, the team he will go to is still yet to be determined.
ADVERTISEMENT
Article continues below this ad