NFL Analyst Speaks His Mind on Philadelphia Eagles QB Situation Surrounding Wentz & Hurts
Published 01/04/2021, 4:34 AM EST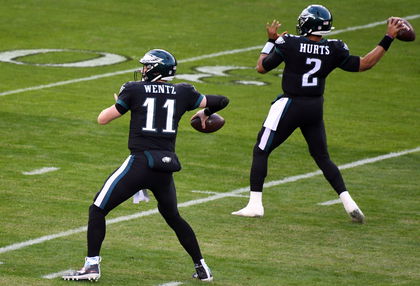 ---
---
From lifting the Lombardi trophy in 2018 to finishing 4-11-1 in the 2020 regular season, the Philadelphia Eagles have fallen like a house of cards. Once seen as the next big thing from the NFC East, the Eagles finished rock bottom of the worst division in the league this season.
ADVERTISEMENT
Article continues below this ad
While injuries have crippled Head Coach Doug Pederson's team, the main focus falls on the situation surrounding their starting QB. Their $128 million starter Carson Wentz has had a shocking season.
So shocking that a second-round rookie QB had to take over for him.
ADVERTISEMENT
Article continues below this ad
QB headache has no clear-cut answer
Carson Wentz is not happy. There is no doubt about that. Despite enduring the difficult patch that he's been through, the QB, according to insiders, is disgruntled by coach Pederson's decision to bench him.
Football analyst Dan Orlovsky, during a segment of ESPN's Get Up, weighed in on this, sharing his thoughts about the QB scenario in Philly.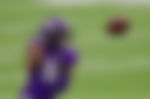 "Listen, the quarterback situation in Philadelphia when it comes to Carson Wentz it isn't tied to the performance of just Jalen Hurts. Everyone thought 'Okay, we're gonna make the quarterback switch and everything will get better," Orlovsky said.
"They are 1-2, in the three games that he's started… Hurts' quarterback play has been better than what Carson was given them this year. So it speaks to the reality it's not a great football team."
Trouble brewing in Philadelphia Eagles locker room
Orlovsky further suggested that the morale in the Philly QB camp is not the ideal atmosphere for a team heading into the offseason.
"I have said this, I do not think that you can have Carson Wentz in Philadelphia with Jalen Hurts in the same room. And I don't believe it's going to be a competitive quarterback room.
"I believe it would be combative. It would not be a healthy situation. What do you do as the Head Coach? Does Doug Peterson want to coach Carson Wentz, or does he want to coach Jalen Hurts?" he asked.
After a solid start with a win in his first game against the New Orleans Saints, Hurts output seems to have dipped as well.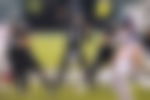 "It was interesting to watch how Dallas played (against Philly). Dallas dropped into coverage, and then they had somebody spy Jalen Hurts.
ADVERTISEMENT
Article continues below this ad
"When Jalen Hurts hit his back foot in his drop that spy committed to going after him. And when he broke the pocket, sometimes he wasn't even allowed to by the spy," said Orlovsky.
"The performance wasn't as dominant or wasn't as impressive as his first 2 starts. So the Eagles have some questions to answer. They got big questions to answer and it will 100% start with what do they do with Carson Wentz?"
With murmurs of Wentz asking for a trade doing the rounds, the situation at Philly has deteriorated fast. Coach Pederson will have quite a task on his hands to sort out the situation soon, or else the Eagles might not be flying high anytime soon.
ADVERTISEMENT
Article continues below this ad