NFL Analyst Speculates Whether Giants Sent Cryptic Message to Daniel Jones Via Social Media
Published 05/30/2021, 12:00 PM EDT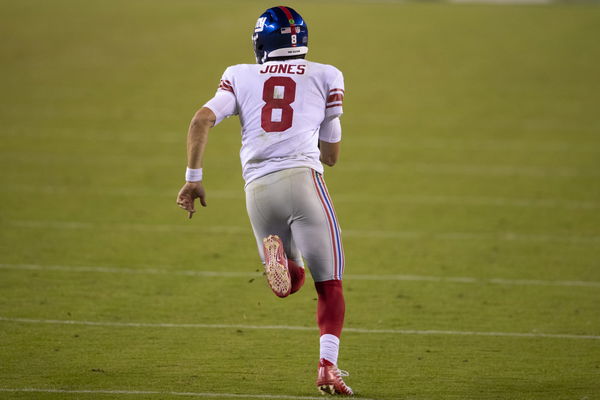 ---
---
Daniel Jones has had a difficult time with the New York Giants. Last season, the Giants missed out on the playoffs on the final day of the season, and he has been on the receiving end of a lot of criticism. While the Giants brass has backed him up and kept faith in him so far, after their latest social media post, one analyst believes that the franchise may be sending a message to Jones and the Giants fanbase.
ADVERTISEMENT
Article continues below this ad
NFL analyst Dan Patrick discussed the New York Giants tweeting a picture of Daniel Jones, with the caption "Year 3 (hourglass emoji)" 
Patrick believes that the hourglass next to the "Year 3" means Jones is on the clock. Since his arrival in New York, Jones has failed to make an impact in the way fans hoped, which means that his third season could decide what his future will be with the franchise.
ADVERTISEMENT
Article continues below this ad
"We just noticed something on the New York Giants website. I wasn't sure if it was on their Twitter feed or not, if this was real. There is a photograph of Daniel Jones, their quarterback, and in the upper left-hand corner is an hourglass, it says "year three" and then it has an hourglass. Which means you're on the clock.
Daniel Jones on the clock right now?
Patrick then questioned why the New York Giants chose to do this. A post with this kind of subliminal messaging could put more pressure on Jones going forward. The next season is going to be the decider for Jones in New York, and Dan feels that with a post like this, the Giants are informing fans of the same, as well as confirming it for analysts and fans who believed this to be the case.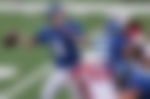 ADVERTISEMENT
Article continues below this ad
"How do the Giants do this? 'Hey, let's add more pressure on him. This is basically a make-or-break year for Daniel Jones and let's tell everybody.'
"Do we know that? Yeah, we assume that, but the team is basically saying, 'yeah we know it too, we want everybody to know'."
ADVERTISEMENT
Article continues below this ad
As Daniel Jones will look to prove himself, the Giants, too, will look to improve this season. However, the NFC East is far more competitive this season, with the Giants' rivals all having strong off-seasons so far. So, the Giants will have to pull up their socks to do well next year.