NFL Analyst Suggests Tom Brady Left New England to Get Out of Bill Belichick's Shadow
Published 02/22/2021, 12:38 PM EST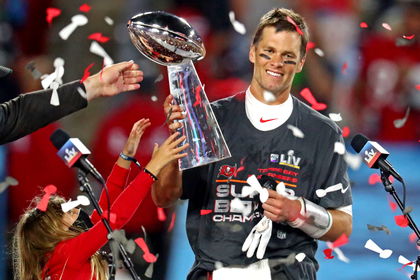 ---
---
Tom Brady was able to silence a lot of his critics recently. Many believed that Tom Brady only achieved the success that he did thanks to Bill Belichick.
ADVERTISEMENT
Article continues below this ad
However, he took the bold step to leave the New England Patriots to join the Tampa Bay Buccaneers last season. Within one season, Brady proved his greatness, winning his 7th career Super Bowl, and showed that he didn't need Belichick.
NFL analyst Dan Graziano spoke on Get Up. He believes that Tom Brady's departure was motivated by his reputation, and didn't want to be Bill Belichick's sidekick.
ADVERTISEMENT
Article continues below this ad This is why he took the bold decision to join the Tampa Bay Buccaneers. And at the end of the season, Brady could easily say that the decision worked out for the best.
"This is a lot of what we were saying a year ago when Tom Brady left. And a lot of what Tom Brady was saying – 'I enjoyed my time in New England, it's time to try something different'. Obviously, that's what worked out." Tom Brady can win without Bill Belichick
Brady wanted to make an impression on the league, and test himself outside of the Patriots' comfort zone. He had spent much of his career with Belichick and the Patriots, and garnering success outside of the franchise would further cement his legacy.
Graziano further added that now it is up to Bill Belichick to prove that he can be successful without Brady in his ranks. "You don't want to obviously be labeled a 'sidekick' to Bill Belichick in New England for all those years. 
ADVERTISEMENT
Article continues below this ad
"He's proven if anyone had any doubts that he was much more than that. I think this is something you can hang on your wall. 'I did this, I accomplished this, this was me'. And now it's up to Belichick earlier to show that he can win without Tom."
Can Bill Belichick win the Super Bowl without Tom Brady? Despite one poor season, there is little doubt about how good of a coach Belichick is.
And right now, the Patriots will be doing everything in their power to reload their roster and come back next season with legitimate firepower.
ADVERTISEMENT
Article continues below this ad