NFL Analyst Talks Chicago Bears Choosing Andy Dalton Over Sam Darnold
Published 04/10/2021, 2:02 PM EDT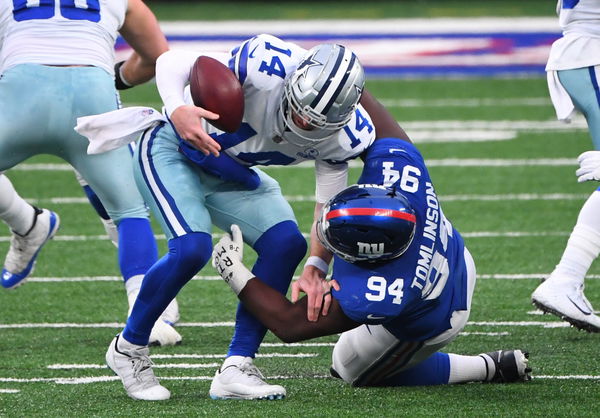 ---
---
The Chicago Bears have had a perplexing off-season so far. It became clear the Mitchell Trubisky is not their man anymore. During free agency, the Bears signed Dallas Cowboys deputy quarterback Andy Dalton. The move was a surprising one, as Dalton didn't impress when Dak Prescott went down injured. However, it appears that the Bears didn't have many options.
ADVERTISEMENT
Article continues below this ad
NFL analyst Mike Greenberg spoke recently about the Chicago Bears choosing Andy Dalton. He believes that Dalton was the easier choice because, despite his struggles, he has the experience and doesn't need much work. After Sam Darnold's last few seasons with the Jets, the Panthers need to build him back up from the ground, which is a much harder task to complete.
ADVERTISEMENT
Article continues below this ad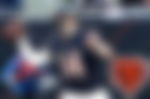 "Here is what Andy Dalton is that Sam Darnold isn't. Andy Dalton is ready to walk in right now, be the guy, has all the experience you can possibly have. It doesn't need to be rebuilt. Sam Darnold needs to be rebuilt from the ground up. He needs to be reprogrammed. He needs to be broken down, start all over again and start building from scratch. You need to treat him like a rookie. He is only 23 years old, and about to be playing for his third head coach."
Andy Dalton preferred over Sam Darnold in the off-season
Sam Darnold experienced a very difficult period with the New York Jets. During his time with the franchise, he lost the coach and general manager that brought him to the franchise. Furthermore, the style of play changed several times, and the franchise kept finding and losing their faith in Dalton. It was time for Darnold to start over in a new team and try to recover his career.
ADVERTISEMENT
Article continues below this ad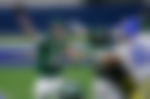 For Andy Darnold, while he didn't impress many during his stint with the Dallas Cowboys, he wasn't blamed for their poor run. The Cowboys were struggling with several injuries during last season. Dalton could have performed better, but analysts acknowledged that he didn't have the proper tools around him to be able to turn the Cowboys' season around.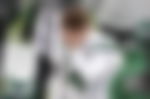 ADVERTISEMENT
Article continues below this ad
Will the Chicago Bears find success with Andy Dalton? Despite his signing, the Bears are looking for a new starting quarterback. Mitchell Trubisky has not worked out for the franchise the way that they hoped. Furthermore, they had been linked with Russell Wilson earlier in the 0ff-season, but the Seahawks rebuffed their offer.
Trending Stories