NFL Analyst Tries to Analyze a Possible Hidden Meaning Behind New Jersey Number of Carson Wentz
Published 03/20/2021, 6:21 PM EDT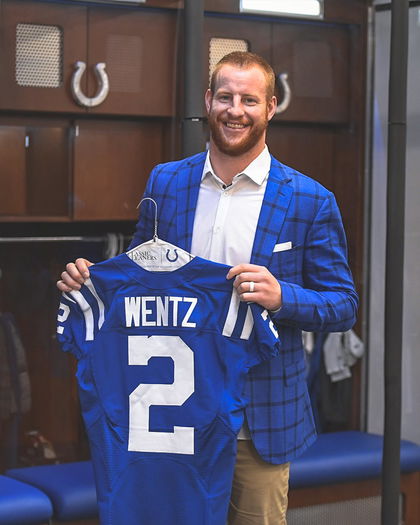 ---
---
For Carson Wentz, the Philadelphia nightmare is over. Now officially an Indianapolis Colts player following his trade from the Philadelphia Eagles, Wentz will look to start a new chapter in the NFL come next season.  
ADVERTISEMENT
Article continues below this ad
The trade means a new team, a new city, and rather unexpectedly a new jersey number. After word went out about his trade, Wentz apparently asked for the #11 jersey at his new franchise. 
There was a slight problem, though. The number was taken by a rookie. A rookie who was hesitant about letting it go. Wide receiver Michael Pittman Jr during an interview with TMZ Sports had clarified that he would not be giving up his jersey number for the new incoming QB.
ADVERTISEMENT
Article continues below this ad
So with #11 off the table, Wentz finally decided to go with #2. A decision that made a certain NFL analyst look for possible reasons behind his new kit number.  
Colts starting QB Carson Wentz dons #2
During a segment of The Rich Eisen Show, Eisen gave his viewers a quick recall of the Pittman incident before getting into the rationale behind Wentz's decision making.
"You remember Michael Pittman? Just a second year out of Southern California. Made a bit of a to-do when I think he was on TMZ.
"He said he wasn't going to give Carson Wentz his number 11. Well, here's the payoff. He appeared today as the Indianapolis Colts' #2," he said.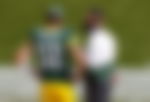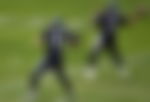 "Now #2 on your program. Goes from #11 down to #2. I guess those are the two number ones together? I guess if you're not 11, you're 2, right?" Eisen argued.
The analyst also noted that #2 is the same number worn by the man who benched him in Philadelphia, QB Jalen Hurts.  
ADVERTISEMENT
Article continues below this ad
"(It is) Jalen Hurts' number," he said. Another possible reasoning Eisen suggested was Wentz picking his draft number. "He was the 2nd overall pick. I mean, you put one and one together, you get 11, you put it together and it's 2."
With Carson Wentz and Jalen Hurts now both #2s, which quarterback do you feel will have a better season in the upcoming NFL season?
ADVERTISEMENT
Article continues below this ad
ALSO READ- JuJu Smith Schuster Reveals the Teams That Were After His Signature in Free Agency