NFL Cornerbacks DeAndre Baker and Quinton Dunbar Face Multiple Armed Robbery Charges
Published 05/14/2020, 9:59 PM EDT

Follow Us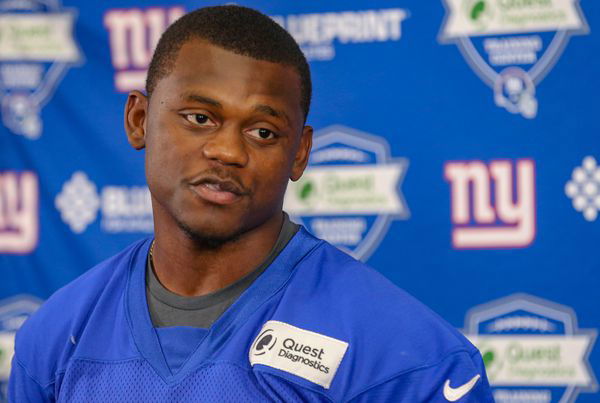 While the Coronavirus pandemic will have caused severe disruptions in the daily lifestyle of several NFL players. However, two of them have even bigger problems to deal with as we move closer to the 2020 NFL season. As per ESPN NFL insider Adam Schefter, New York Giants and Seattle Seahawks cornerbacks DeAndre Baker and Quinton Dunbar have arrest warrants issued against them. 
DeAndre Baker, Quinton Dunbar wanted in connection with robbery and assault
As per the ESPN report, the Miramar police issued a warrant charging Baker with four counts of armed assault with a firearm. In addition to this, he faces a charge of four counts of aggravated robbery again with a firearm. Dunbar however only has a warrant for the armed robbery with a firearm charge. 
ADVERTISEMENT
Article continues below this ad
The @MiramarPD said an arrest warrant has been issued for Giants' CB Deandre Baker and Seahawks' CB Quinton Dunbar for four counts of Armed Robbery with a Firearm and four counts of Aggravated Assault with a Firearm. Incident occurred May 13.

— Adam Schefter (@AdamSchefter) May 14, 2020
The unfortunate incident took place early on Thursday morning. The cornerbacks were at a party and as per the police report used force to steal cash as well as watches. At the time, Baker and Dunbar were armed with semi-automatic firearms. The former even threatened his victims with the weapon. 
Both Baker and Dunbar's NFL franchises, as well as the NFL, have issued statements on the same. 
Giants' statement on the arrest warrant for armed robbery being issued to CB DeAndre Baker: "We are aware of the situation. We have been in contact with DeAndre. We have no further comment at this time."

— Adam Schefter (@AdamSchefter) May 14, 2020
Seahawks' comment: "We are aware of the situation involving Quinton Dunbar and still gathering information. We will defer all further comment to league investigators and local authorities."

— Adam Schefter (@AdamSchefter) May 15, 2020
The NFL too issued a statement regarding the incident.
ADVERTISEMENT
Article continues below this ad
As per the police report, the incident occurred all of a sudden. The patrons were playing cards when the 22-year-old Giants cornerback and a person identified as "Shy" flipped the table and brandished firearms. However, nowhere in the report does it state that Dunbar used the firearm to threaten anyone. Instead, it was the New York Giants no. 27 who made the demands for the valuables and threatened victims. 
The report also states the cornerback duo lost $70,000 at another party. Their fans will be dismayed at them thinking of recouping their losses in this manner. This is because they make way more while playing football. 2019 top round pick Baker is on an 8 figure 4-year contract. 
ADVERTISEMENT
Article continues below this ad
As per the law, the sentence for a single count of armed robbery while in possession of a firearm is 10 years. What is your take on the issue? Do the players deserve sanctions from their teams for their night's adventures?