NFL Draft 2021: New England Patriots Looking to Trade Up or Sign Jimmy Garoppolo
Published 03/27/2021, 6:03 PM EDT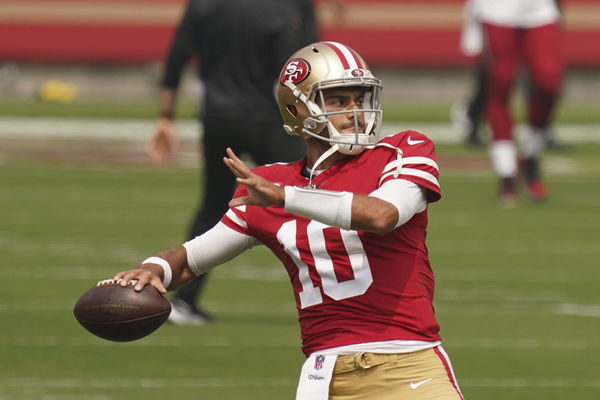 ---
---
The future of San Francisco 49ers quarterback Jimmy Garoppolo is up in smoke at the moment. The NFC West franchise traded up in order to acquire the 3rd overall pick from Miami Dolphins at the 2021 NFL Draft.
ADVERTISEMENT
Article continues below this ad
They had to give up three 1st-round picks and a 3rd-round pick in order to get what they wanted.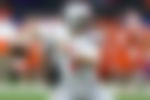 One can't help but wonder who the Niners are going to bring in. It's very easy to guess that it's going to be one of the young quarterbacks available in round one. Our money is on Ohio State product, Justin Fields.
ADVERTISEMENT
Article continues below this ad
But amidst all this commotion, we also wonder what might be going on in the mind of Jimmy G this weekend.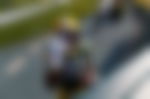 Will Jimmy Garoppolo return to New England in the coming months?
Hard to imagine the 49ers moving up if it isn't for a QB … which could lead Jimmy Garoppolo to become available.

The question, if so, for the Patriots: How soon? https://t.co/UCZ6QJTd98

— Mike Reiss (@MikeReiss) March 26, 2021
A report from The Athletic NFL journalist Jeff Howe mentions in detail how the Bill Belichick-led New England Patriots remain keen on a potential Jimmy Garoppolo reunion.
The 29-year-old had a tough season with the 49ers in 2020. He featured in just 6 games, throwing for 1,000+ yards, with 7 passing TDs, and 5 interceptions.
He spent 3 years in Boston before moving to San Francisco to play under the tutelage of Kyle Shanahan. Jimmy G played backup to the legendary Tom Brady during two Super Bowl runs.
He is well-versed with the offensive playbook of the Patriots and regarded as a 'system quarterback', someone that coach Belichick likes to work with.
But if he does return to Foxborough, there's no guarantee he'll be a starter due to the presence of 2015 NFL MVP, Cam Newton.
ADVERTISEMENT
Article continues below this ad
But the report further adds that the Patriots are more likely going to trade up and draft a young quarterback. The front-runner on that list is Alabama Crimson Tide Football quarterback, Mac Jones.
The 22-year-old threw for 4,500 yards with 41 passing TDs as Alabama won their 6th National Championship title under the tutelage of Nick Saban.
If the Patriots manage to trade up and Jones is still available, expect him to board the fastest plane to Massachusetts in the first week of May.
ADVERTISEMENT
Article continues below this ad