NFL Draft Stock Going Up As Kenny Pickett's Headlining Hands Have Increased in Size
Published 03/22/2022, 6:00 PM EDT

Follow Us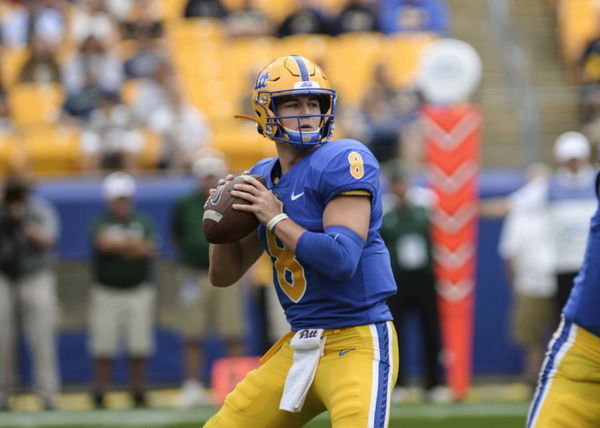 Have you ever heard about the size of human hands increasing after days? Kenny Pickett, the Pittsburgh Steelers quarterback, is again making news for his hand size. According to the latest measurements from the pro day, Pickett's hand grew an eighth of an inch more than NFL combine 2022.
He nearly stole the show by giving hope to the coaches and evaluators present at the event. The quarterback claims to have done some stretching exercises since the Combine. And this seems to have affected the results.
ADVERTISEMENT
Article continues below this ad
Kenny Pickett- a talented quarterback with shorthands
Earlier, the Pittsburgh Steelers quarterback was sidelined from the NFL combine, citing his shorthands. His hands were measured 8 inches and a half, sparking speculations on whether the hands were suitable for an ideal QB. However, these measurements never affected his game. At the age of 23, Pickett is considered one of the budding QBs in the NFL world.
It's a hometown tape measure! Pitt QB Kenny Pickett is letting all of his combine testing numbers stand today, but he gamely did have his hand measured again. And today, it was 8 and 5/8" – 1/8" bigger than a few weeks ago at the combine. #ProDay

— Aditi Kinkhabwala (@AKinkhabwala) March 21, 2022
Now, after less than three weeks from the NFL Combine, he featured in his pro day. The measurement of his hands came out to be eight and five-eighths inches, which is one-eighth more than the previous measurement.
He revealed that the enlargement might have been the result of some stretching exercise he had been doing for many days. With this increase in his hand size, his draft stock will also get an upper edge this season.
QBs with short hands & still performing exceptionally well
ADVERTISEMENT
Article continues below this ad
This is not the first time a particular player is pointed out for his hand size. It is a common perception in the NFL world, that a quarterback must have at least long hands. Specifically, a 9-inch hand is held the least acceptable mark for having a great grip. But it is not the case with everyone as it can be a genetic inheritance.
All that matters is the gameplay and technical ability the QB possesses to make passes and lead the team. Bills quarterback Josh Allen had a similar instance in the NFL. With some therapy, he was able to enlarge his hands by three-eighths of an inch. Players like Jake Fromm and Bengals' Brandon Allen had their hands less than 9 inches but they were able to make significant contributions to their side.
ADVERTISEMENT
Article continues below this ad
All in all, it goes down to one question. Is the quarterback worth drafting? And that's what actually matters!
Watch This Story – Patrick Mahomes marries Brittany Matthews in Hawaii
Edited By: Deepika Bhaduri