NFL Fines Green Bay Packers $300,000 While Aaron Rodgers and Allen Lazard Pay Almost Nothing
Published 11/10/2021, 3:49 AM EST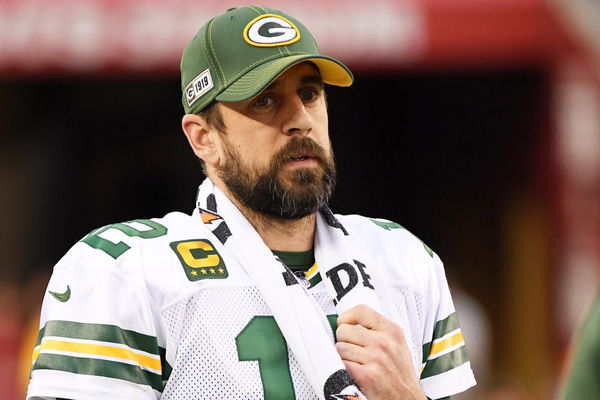 ---
---
The NFL world came to a standstill when Aaron Rodgers tested positive for COVID-19. Just days ahead of the positive test, Rodgers shared images of his Halloween costume, and several players attended a party. Not only were they without masks, something Green Bay Packers has mandated, they openly flouted many restrictions.
ADVERTISEMENT
Article continues below this ad
Aaron Rodgers and Green Bay Packers fined for COVID violations
ADVERTISEMENT
Article continues below this ad
Because of these violations, the NFL has imposed some insanely heavy fines on Green Bay Packers. Every player at the party also received a fine, from Aaron Rodgers to Allen Lazard and more. Not only was the party an obvious violation, but the Packers failed to report the incident to the NFL as well.
Because of this, the NFL levied a $300,000 fine on Green Bay Packers. Aaron Rodgers and Allen Lazard shelled out $14,650 for the COVID violations they committed. What has shocked many people is that the franchise bore the brunt of the punishment, even though Aaron Rodgers was the one who started the fire.
Rodgers tested positive, which became global news after he revealed his vaccination status. He then added more fuel to the fire with his comments on the Pat McAfee Show. A regular guest on the podcast; Rodgers spoke about taking advice from Joe Rogan, the former UFC analyst. Not only is Rogan a controversial figure in combat sports, but even in mainstream news because of his comments about COVID-19.
Is it a fine or a joke?
#Packers QB Aaron Rodgers and WR Allen Lazard we're fined $14,650 each for attending a massless Halloween party. The party wasn't sanctioned by the team but the league determined the club should have penalized both players. https://t.co/jdF7ns7zXh

— Mike Garafolo (@MikeGarafolo) November 10, 2021
ADVERTISEMENT
Article continues below this ad
Aaron Rodgers lied, violated NFL COVID protocols and endangered other people.

Rodgers was fined $14,650. That is 0.00010933% of his 4-year, $134 million deal with @packers, not counting endorsements.

Colin Kaepernick took a knee in protest for a cause, and lost his NFL career.

— Ana Navarro-Cárdenas (@ananavarro) November 10, 2021
Rodgers welcomed the backlash and even blasted those who wanted him 'canceled'. He attacked 'woke culture' and then revealed he was allergic to certain ingredients in the vaccinations. The long, dragged out situation saw a rather comforting end for the Packers' star QB. Fourteen grand is a tiny amount in comparison with the fine imposed on the Packers.
ADVERTISEMENT
Article continues below this ad
Should Rodgers take more accountability for his actions? Will the Packers have their own way to dole out punishment to players who flout COVID restrictions? For Packers fans, they already got violated by watching Jordan Love fail against Kansas City Chiefs. If not the franchise, their fans definitely do not deserve this treatment.