NFL Insider Reveals a Way the Green Bay Packers Could Appease Aaron Rodgers
Published 06/07/2021, 12:21 PM EDT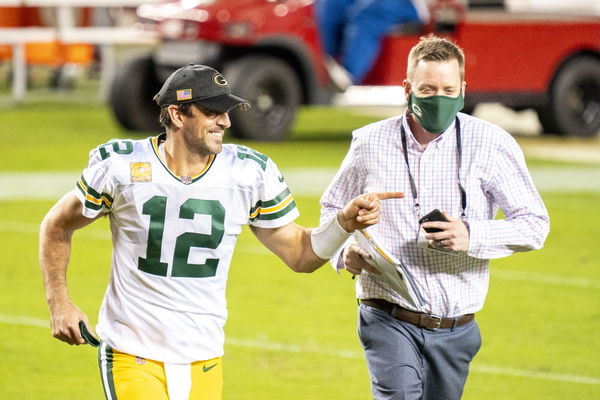 ---
---
There's trouble in paradise at Green Bay. The Packers franchise has had zero headaches over their quarterback position for years. And the franchise has Aaron Rodgers to thank for that. But now they find themselves staring at the prospect of losing their star QB. 
ADVERTISEMENT
Article continues below this ad
Recently, Packers CEO Mark Murphy too dwelled on how the scenario has divided the Packers fan base. With Rodgers not turning up for the team's OTAs doubts have been cast over the QB's future.
The voluntary nature of the OTAs though saw Rodgers get away without facing any major repercussions. The same can't be said if he misses the minicamp set to start on Tuesday. 
ADVERTISEMENT
Article continues below this ad The three-day camp is mandatory for every player and the franchise can impose fines on players who fail to show up. If Rodgers misses it he too will be liable to pay a fine of $93,085. 
With how fractured the dynamics between the Packers and Rodgers is currently, imposing such a fine would only further sour the relationship. And one NFL analyst feels the franchise's next decision could play a big role in how things play out in the future. 
Packers need to prioritize sorting out Aaron Rodgers scenario 
The franchise is still looking to hold on to Rodgers. But to do that, they must win back his trust. Clearly, the QB is miffed with how they've treated him over the past few years.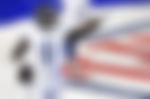 Showing a lack of trust by drafting QB Jordan Love in 2020 and not bringing in any elite playmaker on offense in years, there are reasons for Rodgers being discontent.  
Levying a fine would only make things worse. But the Packers could use this opportunity to show that they're ready to give Aaron Rodgers the time he needs. 
ADVERTISEMENT
Article continues below this ad
NFL insider Adam Schefter said that while the Packers are eligible to fine Rodgers for not showing up, they could wish to excuse him. 
"With the Packers mandatory minicamp scheduled to start Tuesday, Aaron Rodgers would be eligible to be fined $93,085 for not attending, though Green Bay could issue him an excused absence, which also would excuse him from the fines. It is an option the team has discussed," he tweeted.
ADVERTISEMENT
Article continues below this ad
This should definitely bring about some sense of confidence in Rodgers. The Packers have finally picked up their saddle and are looking to convince their QB that he has a future with the franchise.
There's still a long way to go for the two parties to come to a reasonable agreement. But for the Packers, this could well be the start of them trying to mend their ways with their franchise QB.