NFL Insider Sees Aaron Rodgers Returning to Green Bay for 2021 Season
Published 05/15/2021, 12:16 PM EDT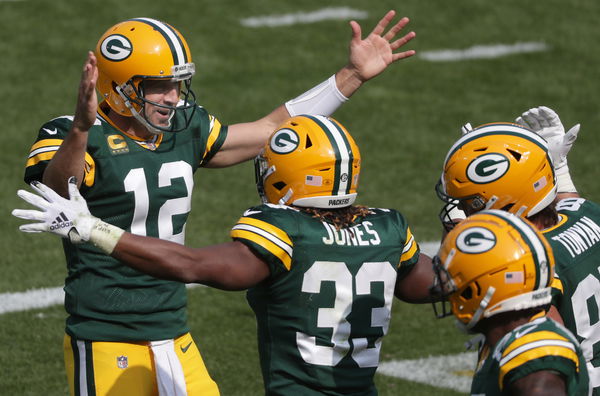 ---
---
One name has dominated NFL headlines for the past few weeks. And that name is Aaron Rodgers. The 2020 NFL MVP has reportedly grown disillusioned with the Green Bay Packers franchise. But more precisely, their front office. 
ADVERTISEMENT
Article continues below this ad
The Packers stunned the world when they drafted rookie Jordan Love in the 1st round of the NFL Draft last season. In a clear indication of the side looking to replace Rodgers, the veteran QB responded by turning back the clock to perform at his very best.
But with the season now done and no contract extension in place, there's a doubt over Aaron Rodgers' return as a Green Bay Packers player. 
ADVERTISEMENT
Article continues below this ad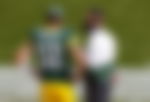 Rodgers is yet to make a statement about the current situation. But the age-old adage of actions speaking louder than words could very well play a role in clearing out the confusion. 
With preseason training camp set to kick off soon, Rodgers' presence or absence will go a long way in addressing whether the QB will be back for 2021 or not. 
And one NFL insider believes that it's more likely than not that Aaron Rodgers will be back at Green Bay.
The journey is not over for Aaron Rodgers 
Appearing on the Rich Eisen Show, NFL insider Mike Florio talked about his understanding of the current situation. 
"I think where it stands now is, the battle lines are drawn. The Packers are calling his bluff. Barring some change of heart they aren't going to trade him," he said.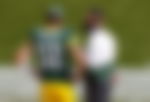 Multiple teammates of Rodgers have come out and said that the situation can be fixed based on their conversations with the QB. This again is something that Florio feels is a hint from Rodgers of how he feels. 
"I think that when you hear the comments from guys like John Kuhn and James Jones, whether they realize it or not, they're being used by Aaron Rogers as surrogates to get his message out there. 
ADVERTISEMENT
Article continues below this ad
"When he talks to them and they talk to media and say the situation is fixable, that's basically Rogers saying the situation is fixable," he added.
In fact, Florio feels that Rodgers will strut back to Green Bay and play it off like nothing ever happened.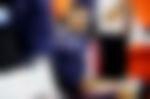 ADVERTISEMENT
Article continues below this ad
"I think he's gonna find a way to show up and act like everything's fine. 'What's everybody looking at? Is there a booger I'm not aware of?' And then he's gonna blame us for making a big deal out of something that he'll claim wasn't a big deal."
The never-ending Aaron Rodgers trade saga could soon take a new turn based on whether the QB turns up to training camp or not. But based on how things stand, would you be surprised if Rodgers pulls off a no show?