NFL Legend Claims "Lamar Jackson Can Be the Greatest Player in the History" of NFL Under One Condition
Published 08/20/2022, 12:30 PM EDT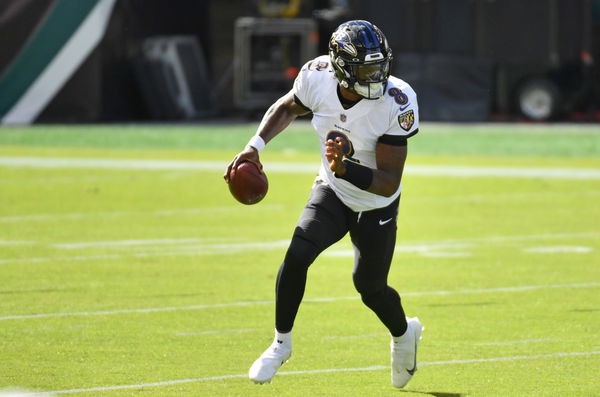 The offseason buzz around the quarterbacks is always a thriller. Many QBs get to reach their fate while some are still under suspicion. One such QB is Lamar Jackson, who lacks a long-term agreement with the Baltimore Ravens. Even NFL legend Steve Young sealed the best player approval on the QB but called out on how the franchise is holding him back.
QB-turned-Analyst Steve Young appeared on Thursday during the Monday Night Countdown on ESPN. Young attempted to inflate QB value by claiming that Lamar Jackson could be the greatest player in the game's history. However, the Ravens' receiving order continues to strangle him.
ADVERTISEMENT
Article continues below this ad
Lamar Jackson Is Great, But…
Analyst Steve Young mentioned, "My position is they will never get to championship football without a sophisticated passing game, and that's not anything to do with Lamar Jackson," Young said. "Lamar Jackson is a complete player that is not trained in being a sophisticated passer. They doubled down again back to do all the great things that Lamar does. Great. But until he gets the chance he gets to show that he is a sophisticated passer of the football in a sophisticated passing game that they have invested in… Lamar Jackson is damned because of what the Ravens are doing, not because of Lamar Jackson."
Young wanted to make sure that he did not criticize Jackson's tossing abilities. The Hall of Famer pointed fingers straight at the Ravens for relying on Lamar's powerful aspects.
QB Jackson will make a little more than $23 million this season. If the Baltimore Ravens do not keep him, he will be the hottest free agent by next year.
ADVERTISEMENT
Article continues below this ad
Ex-NFL TE Drops an Estimate at QB Jackson's Next Pay Raise
After the gigantic Kyler Murray extension, all eyes are now on Lamar Jackson. The Ravens QB is in the last year of his rookie deal and awaits a new extension from the franchise. During the July 25th broadcast of the Undisputed, host Shannon Sharpe stated Jackson would not bow for a dollar less than Murray's and will be his starting point for talks.
ADVERTISEMENT
Article continues below this ad
The ex-NFL TE also mentioned that during the signing, Jackson could consider an offer in the 110s, 115s, or perhaps 120s. Most likely 200, with at least 200 million assured. Given the recent rise in the QB's salaries, Lamar would not settle for less by any means. Will Jackson hit the jackpot? It is subject to witness.
Watch This Story: Tom Brady Went to the Same High School As This Controversial MLB Hall of Famer Who Was Also a 14x All Star
Edited By: Gurjyot Singh Dadial