NFL Legend Deion Sanders SHREDS Modern Pro Bowl: "Lord Help Me, I'm Watching the Pro Bowl and I Remember When We Were So Proud and Appreciative of that Accolade"
Published 02/07/2022, 5:50 AM EST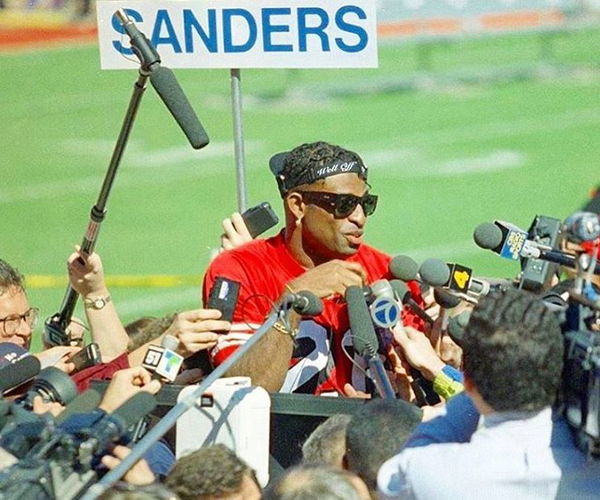 The Pro Bowl game took place last night. The best of the AFC went head-to-head with the best of the NFC. On paper, this is supposed to be one of the biggest games of the season. But players these days don't really care too much about the game. A veteran of the sport takes offense at the lack of enthusiasm behind the game. 
The legend of the league and multiple-time Pro Bowl selection Deion Sanders had a lot of issues with the game. Sanders raised a few questions on his Twitter, which he hopes someone in the NFL can answer. 
ADVERTISEMENT
Article continues below this ad
Deion Sanders gets brutally honest about the Pro Bowl on Twitter
Deion Sanders has played in the NFL for 14 seasons from 1989 to 2005. He has been a part of teams like the Atlanta Falcons, San Francisco 49ers, Dallas Cowboys, Washington Redskins, and Baltimore Ravens. Sanders has been selected in the Pro Bowl eight times, during his illustrious career. He is also a two-time Super Bowl champion. 
After watching the All-Stars game last night, Sanders was very disappointed. He took to Twitter to address the issue and raise some questions.' Prime Time' tweeted, "Lord help me," Deion adds, "I'm watching the NFL Pro Bowl, and I remember when we were so proud and appreciative of that accolade. We went to Hawaii to prove we were more than worthy, so we competed at practice and in the game. I wanted u to know that PRIME was PRIME !" Then he asked at the end of the tweet was, "What Happened & When ?"
Back in the day, becoming a Pro Bowler used to mean something to the players. According to the legend, players these days do not care about honor. Now players think of the game as downtime. No one goes hard in this game these years. 
ADVERTISEMENT
Article continues below this ad
This year's lackluster All-Stars game
This year, the game took place in the home of the Las Vegas Raiders, Allegiant Stadium. It was the first time the game took place in Vegas. Perhaps that was the only 'history-making' moment of the night. 
ADVERTISEMENT
Article continues below this ad
The AFC defeated the NFC with a score of 41-35. The AFC has won it for the fifth straight time. With the lack of any real memorable moments, we can see the point Deion Sanders is trying to make. What in fact did happen to the Pro Bowl? 
Watch This Story: Justin Jefferson, Micah Parsons, Russell Wilson and more Star as NFC Steal the Show Ahead of Pro Bowl 2022 Showdown