NFL Legend Doubts Intensity of Antonio Brown's Injury Having Watched it Live: "Just Stop Brother… Just Stop."
Published 06/30/2022, 5:30 AM EDT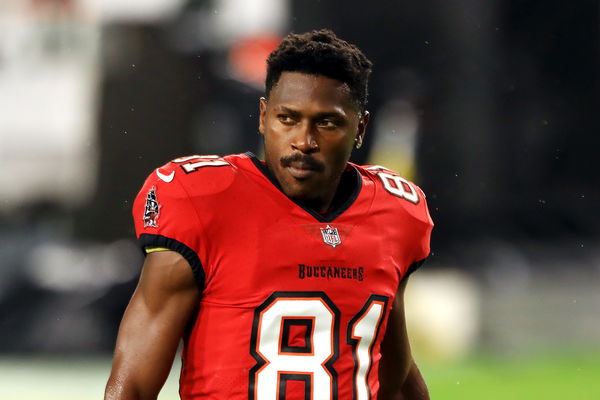 There is no chance the Tampa Bay fans would forget the infamous walk-off by Antonio Brown. It was a point when the Buccaneers desperately needed a comeback. But AB had other plans and left after a fallout, and the matter is still up for debate. Bucs legend Warren Sapp has his own set of questions over the situation.
Antonio Brown is a true offensive legend, and his receiving skills are praiseworthy. However, his time in the NFL was controversial, and he became a polarizing figure. Despite his inactivity as an athlete, Brown is still in the news and has received celebrity status.
ADVERTISEMENT
Article continues below this ad
Warren Sapp made an appearance for Vlad TV and touched upon several topics. He also stumbled over Antonio Brown and his actions. The Bucs were down by 14 points, and the receivers had injuries. But Brown took off after performing topless jumping jacks in the end zone at the MetLife Stadium. Sapp saw it live and called Brown's injury a phony justification.
Warren Sapp mentions, "They were down 14 points. Come on! How are you gonna say you ain't going in the game? We just watched you break the DB off where you almost fell down, huh? We're watching the game. We watching you running around. We just watched you bounce off the damn field. I ain't gonna look like I was hurting there and then you went and put on these little bitty ass boots and when I stood, it just kept going. Man, he just kept going. I'm like, just stop brother… Just stop."
ADVERTISEMENT
Article continues below this ad
Antonio Brown to the Steel City?
Antonio Brown had a playing career for 11 years, and all credit goes to the Steelers. The franchise brought him out of Central Michigan as the sixth round, 195th overall pick. When the Buccaneers cut him off, there were chances of him heading to his roots. However, head coach Mike Tomlin denied the concept during an appearance on The Pivot Podcast.
ADVERTISEMENT
Article continues below this ad
Tomlin gives a stern denial about donning a headgear, sprinting out of the tunnel, and playing ball. He also claims that the conversation was not reasonable. Moreover, if we believe AB's words, his playing career is over. Brown has stated that he wants to retire as a Steeler but does not want to continue playing. Even though it doesn't seem like Brown will return to the Steelers, the team could have some compromise on it.
Watch This Story- Tom Brady Lists 4 Mental Tricks for Achieving Greatness