NFL Pays Tribute to Baltimore Ravens' Ray Lewis on his 45th Birthday
Published 05/15/2020, 12:22 PM EDT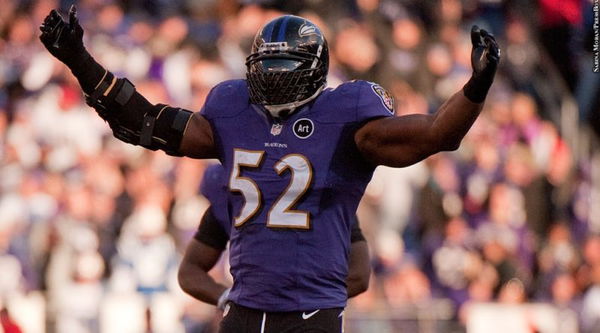 Ray Lewis may have retired, but he is still regarded as one of the best NFL linebackers of all-time who played for Baltimore Ravens. The man has proven that he has rock solid defence and can stop most attacks from taking place. On the other end of the scale, he is known to make a few touchdowns of his own.
ADVERTISEMENT
Article continues below this ad
Around 2005, many would say that he was in his prime, though that is a difficult statement in itself. He had one season of 100-plus solo tackles since that year, whereas he crossed the 100 mark in at least seven seasons. When Ray Lewis reached his early 30s he witnessed a brief surge in form. Sadly, he has slowed down a little, during his last couple of seasons.
ADVERTISEMENT
Article continues below this ad
Ray Lewis: the Man, the Myth, the Legend
Many also praised him for his exceptional leadership qualities. His inspired speeches and guidance raised the overall level of play in Baltimore. There's something to be said for retiring at the top of your game, and he did just that. Sadly, the Ravens' run defense got thrashed in 2013 with him on the field. There are still those who feel that in Lewis' best seasons, he faced plenty of protection. This came courtesy mammoth defensive tackles in front of him like Tony Siragusa and Sam Adams.
However, it does not take away the fact that Lewis is a Baltimore legend and highly revered in the state. There are talented players, and then there is Ray Lewis, who is a cut above the rest. He has even earned comparisons with the likes of Dick Butkus. The man was practically built like a tank, and Chad Johnson found that out the hard way when he tried to blindside him
All in all, many consider him as the best player on a defense that dominated the NFL for over a decade. His ferociousness made him one of the most feared players to ever play the game. In the NFL's 100th anniversary list of the greatest linebackers to ever play the game, Lewis ranked second behind former New York Giant Lawrence Taylor. His famous pre-game dance has become a tradition in Baltimore, where the Ravens captain always leads the team onto the field with a version of Lewis' ritual.