NFL Possibly Planning to Make Change to Jersey Number Rule
Published 04/01/2021, 2:07 PM EDT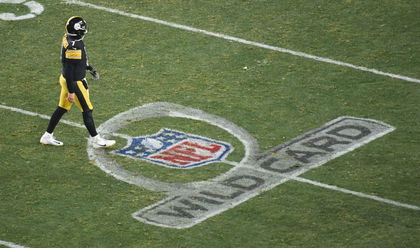 ---
---
The NFL has been pretty stoic with their jersey numbers ruling. Throughout its existence, the NFL has not made any significant changes to the rule over the players' jersey numbers.
ADVERTISEMENT
Article continues below this ad
But it seems like rule could be changed in the near future, as the NFL is finally attempting to remove this rule, owing to a meeting with NFL owners.
Reports emerged today that the NFL is considering changing their jersey number ruling. The owners of franchises are going to be discussing the change of rule that would allow more outfield players to wear single-digit jersey numbers.
ADVERTISEMENT
Article continues below this ad
At the current moment, only quarterbacks, punters, and kickers are allowed to wear single digits numbers.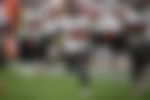 The new rule would allow several outfield players like wide receivers, tight ends, linebackers, running backs, fullbacks among others to wear single-digit numbers jerseys.
Currently, there are several restrictions over the numbers players of these positions can wear on their jerseys. However, the new rule could make a stark change in how the NFL would look going forward.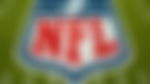 NFL looking to switch up the jersey numbers rule
At the moment, running backs can wear jersey numbers from 20 to 69, wide receivers can wear 10 to 19, and 80 to 89. Tight ends can also use 80-89, along with 40-49.
Linemen (offensive and defensive) can wear any number between 50 to 79. Furthermore, linebackers can wear numbers from 40 to 59, and 90 to 99. Finally, defensive backs can wear 20 to 49.
ADVERTISEMENT
Article continues below this ad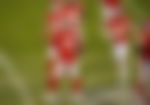 With the introduction of the new rule, these players can wear single digits numbers from 1 to 9. However, they have to be available for the franchise to be able to assign them.
With quarterbacks, kickers and punters, they are a higher priority for those numbers, simply because of the lack of options they have. However, the depth of options is a welcome change for NFL players.
ADVERTISEMENT
Article continues below this ad
How will the new jersey number rule impact the NFL? Currently, the numbers rule isn't spoken about by the fans. However, it does make the officials' lives much easier, as they must keep track of player movements and positions. These numbers allow officials to know which position a player takes on the field.