NFL Reporter Lays Out the Ideal Contract Restructuring Plan for Aaron Rodgers & the Green Bay Packers
Published 03/30/2021, 8:04 AM EDT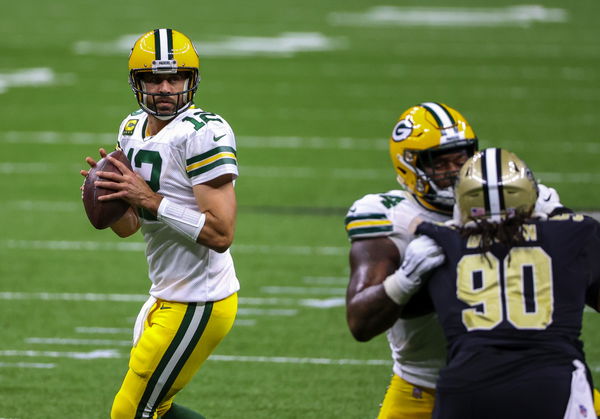 ---
---
Aaron Rodgers has been a Green Bay Packers player ever since he was drafted by the franchise back in 2005. But with each passing season, it looks increasingly unlikely that the QB will finish his career at Lambeau Field.
ADVERTISEMENT
Article continues below this ad
Some reports suggested that the Green Bay Packers were looking to restructure their franchise QB's contract heading into 2021. Nothing concrete ended up materializing, and no changes were made to Aaron Rodgers' contract.
This left many pondering over the future of the 2020 MVP-winner. The franchise is in a tough spot as their cap space has not allowed them to explore the free agency market much. 
ADVERTISEMENT
Article continues below this ad
A contract restructure would've been an ideal solution to this impasse. While contract negotiation talks are something that could happen over the days to come, one NFL reporter laid down the perfect plan that could benefit both parties. 
Aaron Rodgers contract restructure crucial to Packers success  
During a segment of the Rich Eisen Show, NFL correspondent Albert Breer talked about how the Packers could go about restructuring the current contract of Aaron Rodgers.
"Since the idea came up of restructuring, to me an elegant solution would be going to Aaron Rodgers, and presenting him with a plan and saying, 'Here's what we're going to do with the money. We're going to clear up.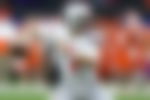 "So if we clear say $20 million in cap space by restructuring your contract a little bit, we get a little money in your pocket earlier. 
"And then we're gonna do X, Y, and Z. And we've talked to this team or this team, about potential trades, you know, we're gonna get you some more help," outlined Breer.
Breer believes that this would be the ideal outcome for both parties if a restructure is what they're going for. "I really think that that could wind up being a good conclusion for everybody," he added. Speaking further about the contract restructure, Breer explained how it's a decision Aaron Rodgers too would be happy with. 
ADVERTISEMENT
Article continues below this ad
"I think a big part of what happened with Aaron Rodgers and why he spoke out the way he spoke out was he looked around and he saw how urgently the Buffalo Bills have built around Josh Allen bringing in Stefon Diggs… And then, of course, you know, the Tampa Bay Buccaneers. And so I think that's really what Rodgers wants."
Given how things stand, do you see Aaron Rodgers finishing his career with the Green Bay Packers? If not, which franchise should look to make a trade for the QB?
ADVERTISEMENT
Article continues below this ad
ALSO READ- 'Performance Speaks for Itself'- Nick Saban Lauds Heisman Trophy Winner De'Vonta Smith