NFL Star DeAndre Hopkins Addresses Trade Hype With Cryptic Video
Published 03/17/2023, 2:26 PM EDT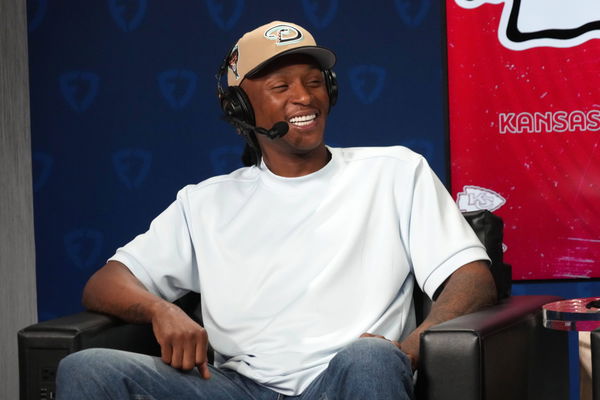 The 2023 NFL free agency just doesn't stop giving. And teams are giving their all to strengthen their offense on priority, which is clearly visible in the choices. With multiple quarterbacks lifted off the open market, it's time to shift the focus to some of the astonishing free-agent wide receivers. And ranking very high on that list is Arizona Cardinals wideout, DeAndre Hopkins. However, he made it way too complicated with his latest update on social media.
Hopkins has already been linked with some franchises who have the Lombardi Trophy on their minds. However, instead of coming out and announcing his decision, the former Houston Texans WR posted a TikTok video that established more chaos than clarity.
DeAndre Hopkins posts cryptic social media message
ADVERTISEMENT
Article continues below this ad
Hopkins started the last season after Week 6 owing to his knee troubles and a violation of the league-mandated performance-enhancing drug policy. However, despite that, the 30-year-old put up stellar numbers, recording 64 receptions over 717 yards and scoring 3 touchdowns. New England Patriots head coach Bill Belichick has been a longtime fan of Hopkins.
Only last season, 'Hard Knocks' documentary's microphones caught Belichick saying, "I'm glad we only have to play you every four years, man. What a career you're having," to Hopkins during the mid-season Patriots-Cardinals clash.
And with Juju Smith-Schuster arriving from Kansas City, the Patriots are rumored to be interested in Hopkins to fill the opposite line. However, DeAndre's TikTok video provided no answers.
"Everybody worried about where I'm going," he titled the reel with Pedro Pascal playing Hopkins, laughing like a movie villain, hinting at a possible twist in the trade.
The Patriots aren't the only ones shopping for Hopkins
The Patriots aren't betting all their money on the Cardinals wideout, as they were also present during Odell Beckham Jr.'s recent Arizona State workout. And DeAndre isn't putting all his eggs in the Foxborough basket either. Dallas Cowboys are also reportedly interested in acquiring his services and providing some relief to Dak Prescott and Ceedee Lamb.
The Cowboys have also been interested in OBJ since midseason last year. And this looks like a race between Jerry Jones and Robert Kraft to hunt the most coveted receivers in the league. However, OBJ seems to have made more of an impact on the NY Jets players. Dallas wants DeAndre.
Linebacker and 2x Pro Bowler, Micah Parsons, is playing a huge role in coaxing Hopkins. "DeAndre Hopkins, it's about time," Micah tweeted yesterday after the Cowboys announced the acquisition of Stephon Gilmore from Indianapolis.
Cornerback Trevon Diggs also echoed in. "Nah, for real," he said, retweeting Micah.
ADVERTISEMENT
Article continues below this ad
Hopkins replied back with a shrugging emoji.
ADVERTISEMENT
Article continues below this ad
WATCH THIS STORY: "I'd say he's a f—ing": Aaron Rodgers puts wish list rumors to bed once and for all
Trevon and Micah were actively involved in the OBJ recruitment phase last season. However, that didn't work out because of injury concerns. And the group's focus is on Hopkins. Will it be the Cowboys, or will the Patriots come up as the surprise twist?