NFL World Gets Carried Away on Tony Romo's 'Biased' Commentary on Josh Allen, Buffalo Bills
Published 01/16/2023, 1:10 PM EST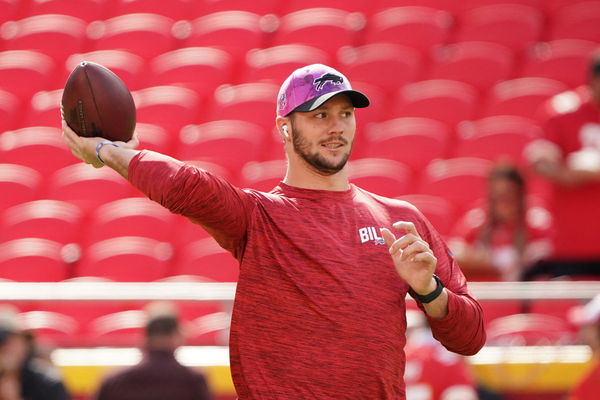 When the Bills hosted Miami Dolphins at the Highmark Stadium this week, it turned out to be a roller coaster ride for the fans. Although Josh Allen and Co managed to seal the win, his back-to-back turnovers became one of the reasons for the Dolphins to hang in the game. Despite all those fumbles, the commentator Tony Romo couldn't stop praising the passer and went beyond the boundaries with his "Mr January" remarks.
Interestingly fans found this an opportunity to roast the analyst and call out the passer for his underperformance. As they say, Josh Allen might have established himself as an emerging talent, but he is yet to win a Super Bowl and register his name in the elite club of champions.
ADVERTISEMENT
Article continues below this ad
The commentator's naming ceremony for Allen happened during the first quarter when the 26-year-old passed for a touchdown to tight end Dawson Knox. Romo's happiness knew no bounds, and he went on to say, "This is why Josh Allen is Mr January,".
It didn't stop there. He even compared the youngster with the greatness of Michael Jordan, calling him a champ. What more do fans require for a troll party? Here are a few of them.
CBS announcer Tony Romo called #Bills QB Josh Allen today:

-Mr. January
-Michael Jordan
-The Champ

Reminder Allen had three turnovers but won the game.

— MLFootball (@_MLFootball) January 15, 2023
I'm concerned we're going to hear "Mr. January" like 8 more times today and I fear there's no way to stop it.

— Mitch Goldich 🐙 (@mitchgoldich) January 15, 2023
I'm already complete with the Mr. January bit.

— Bryan Curtis (@bryancurtis) January 15, 2023
Did Romo just call Josh Allen Mr January? Allen has yet to lead his team to a Super Bowl if I'm not mistaken

— Bob Fescoe (@bobfescoe) January 15, 2023
Tony you can't call a player "Mr. January" when he has a .500 record in the playoffs lmao

— Tyler Conway (@jtylerconway) January 15, 2023
Romo calling Josh Allen "Mr. January" for having 2 great playoff performances in 6 playoff games is such an odd, yet not in any way shocking thing to hear.

— 🗣🎙‼️ (@LanceTHESPOKEN) January 15, 2023
Anyways, it was a horrible match-up for Josh Allen, conceding three turnovers and throwing two interceptions. He lost the 17-0 lead and aided the Dolphins to kickstart their third quarter with a bang.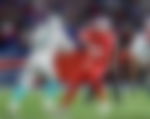 Although he completed the regular season with a great 14-3 record, he accounted for 14 interceptions in 17 games. Moreover all those fumbles near the red zone field the critics even more. Regardless of those accuracies, in the end, it's about winning the game and advancing forward. Something that Allen nailed throughout this season.
Josh Allen admitted his mistakes
ADVERTISEMENT
Article continues below this ad
Mistakes are bound to happen, and still managing to win the game happens to be the real sign of a champion. After the game, the passer spoke about the turnovers and his missed attempts.
"I mean, the turnovers, they hurt us," Allen said in the press conference. "Really let them back in the game. Up 17-0 with chances, and I give them the ball two times and give them a touchdown — it's just things you can't do. And you can't expect to win like that, so some stuff to clean up on that." he added.
ADVERTISEMENT
Article continues below this ad
Next up, the Bills have Cincinnati for the divisional-round playoffs. And these mistakes are not expected to be carried forward. In the postseason, Allen boasts a record of 4-3, including Sunday's win. It will be interesting to see whether he makes a Super Bowl run this season.
Watch This Story: This Aaron Rodgers Fan From Germany Has A Unique Habit That Keeps NFL Fans In High Spirits