NFL World Reacts to the Firing Of Urban Meyer as Jacksonville Jaguars Head Coach
Published 12/16/2021, 6:12 AM EST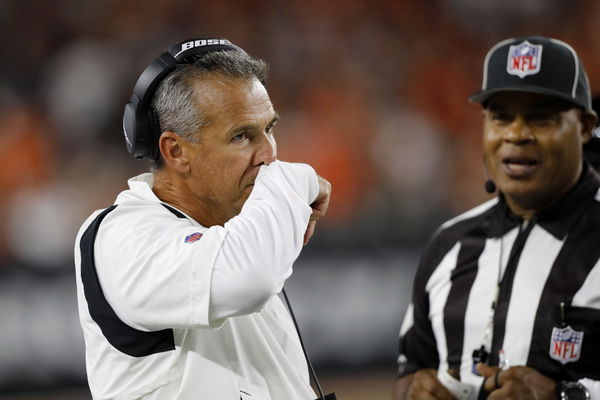 ---
---
The situation surrounding Urban Meyer and his firing from the head coach role at Jacksonville Jaguars is a confusing one. Alongside the confusion, there's one distinct feeling that many fans are feeling – relief. After less than a year at the helm of the Jaguars, Meyer is on his way out.
ADVERTISEMENT
Article continues below this ad
Jacksonville Jaguars fire head coach Urban Meyer
ADVERTISEMENT
Article continues below this ad
From night club appearances to controversies involving his players, Urban Meyer's career at Jacksonville Jaguars was nothing short of tumultuous. The Jaguars had a horrid start to the season, racking up an 0-4 record. However, a win against Miami Dolphins seemed to turn things around for them.
The Jaguars shut down Buffalo Bills in one of the most shocking upsets of the season, and things looked good for Meyer. Unfortunately, controversies outside the field led to his name being dragged through the mud. But now, shocking claims from Jaguars kicker Josh Lambo reveal the true nature of Meyer's dismissal.
Urban Meyer being a Head Coach in the #NFL and Jim Caldwell not is an absolute joke

— Dan Orlovsky (@danorlovsky7) December 13, 2021
Lambo went on record to say Meyer once kicked him during practice. According to Lambo, Meyer said to him, "Hey Dipsh*t. Make your f*cking kicks." Along with the distasteful line, Meyer also kicked the player while he was in a lunge position, hurting him. Issues with fellow Jaguars coaches also came into the picture, with some claiming he called them 'losers'. His stock amongst his players also fell quite a bit, especially with the benching of RB James Robinson.
I feel a LOT better about James Robinson vs HOU with Urban Meyer no longer coaching Jacksonville.

— Matthew Berry (@MatthewBerryTMR) December 16, 2021
Hearing Urban Meyer played boar on the floor w Tim Tebow and Carlos Hyde to see which one woud get released first

— PFT Commenter (@PFTCommenter) December 15, 2021
ADVERTISEMENT
Article continues below this ad
ADVERTISEMENT
Article continues below this ad
The NFL world is neither shocked nor surprised by this occurrence. Meyer had a mediocre run at the Jaguars and did close to nothing to raise their stock. Aside from drafting Trevor Lawrence, Meyer made a bunch of mistakes which eventually caught up to him. Stepping into the interim coach's role is Darrell Bevell.