NFL World Reminds Davante Adams of Ruining His Career as Raiders Take First Step in Showing Derek Carr the Exit Door
Published 12/29/2022, 6:00 AM EST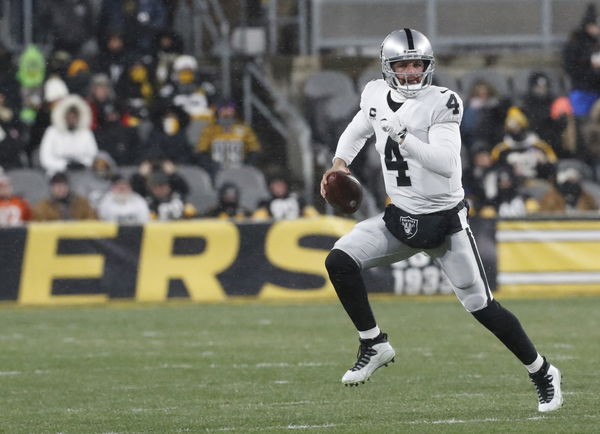 When Davante Adams left the Green Bay Packers in the off-season to join his college buddy and QB Derek Carr, the wide receiver didn't expect things to go down the way it has. The Las Vegas Raiders didn't wait around for things to change magically. And head coach Josh McDaniels announced a major change in their QB role for the remaining two games this season.
3x Pro-Bowler and first-string quarterback Derek Carr will not be playing the final two regular season fixtures after an unimpressive 6-9 season and playoff football virtually out of reach. 24-year-old Auburn QB Jarrett Stidham will start for the Raiders. And the breaking news caused some uproar in the NFL Twitter community.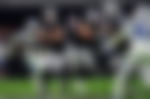 ADVERTISEMENT
Article continues below this ad
After 9 years with the Raiders, first in Oakland and then in Las Vegas, Derek Carr may finally have to find himself a new team if he plans to carry on playing. Because his Raiders days seem to have ended.
Why now tho??? They shouldve done this when they were 2-7 they would've had a great pick instead of a middle of the pack pick

— Corey Piazza (@lakers0621) December 28, 2022
RAIDER FANS SAID CARR WAS BETTER THAN HERBERT 🤣🤣🤣

— SD CHARGERS/ PADRES ⚡️🇲🇽 (@SDCHARGERS_) December 28, 2022
Where all those Raider fans that argued, saying he was better than Dak hahah. Hidinggggg

— Nj Jon (@NjCowboys) December 28, 2022
And given his lacklustre performance, especially this season's 11 interceptions including 3 from the last loss against the Pittsburgh Steelers on the Immaculate Reception's 50th anniversary, fan didn't really care for their QB's next probable destination.
How did Davante Adams react to the news of Derek Carr possibly never playing for the Raiders?
Aaron Rodgers is a very happy man right now. With the Packers turning the table, and his former wide receiver paying for his decision to leave him alone at Wisconsin. Davante Adams was not happy about McDaniels' announcement regarding Derek Carr. "I don't think anybody was excited about it in here. Him being one of my really good friends and the reason why I came here in the first place. I wouldn't be here right now if he wasn't here. Obviously, I support my guy," Davante told reporters after the announcement.
Davante Adams on Derek Carr: "Obviously I support my guy (but) we got to finish out this season the best way we can possible, with all things considered at this point." pic.twitter.com/gZlNJDwK00

— Levi Edwards (@theleviedwards) December 28, 2022
ADVERTISEMENT
Article continues below this ad
Raiders has one of the worst o lines in the NFL and the worst defense in the NFL.

Put him on a team that has both, and he's gonna be elite.

I can see him on the Jets, with that defense, and solid o line.

He's not gonna have a RB like Jacobs, but it's still a good backfield.

— 👑🐻 (@XKingxGrizzlyX7) December 28, 2022
Derek Carr got some support from loyal fans owing to his 23 touchdowns this season. However, it may not be enough to convince the Raiders' ownership to extend their faith in the veteran.
ADVERTISEMENT
Article continues below this ad
WATCH THIS STORY: Derek Carr leaves Antonio Brown's mocking in the dust with an epic win over Denver Broncos
In his 4th year in the league, backup QB Jarrett Stidham has very little experience from his New England Patriots days, where he only recorded 2 touchdowns in the 2020 season. And the young QB will have an uphill task if he stays on the job next season.
Edited By: Gurjyot Singh Dadial