'Not Patrick Mahomes' – Dak Prescott Has Hilarious Reaction to Teammate's Son Mistaking Him Chiefs QB
Published 09/08/2021, 10:54 AM EDT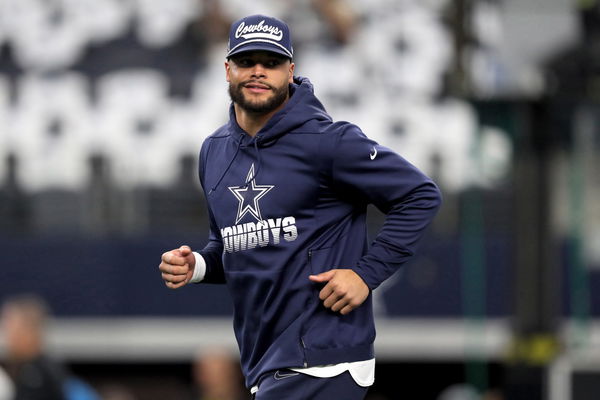 The Dallas Cowboys have reasons to be optimistic about 2021. The side invested in their defense over the offseason and has several key starters returning for the upcoming season. But perhaps no one's return has generated as much excitement in Dallas as that of star QB Dak Prescott. 
The mercurial quarterback was unstoppable through the course of the first four games of the 2020 NFL season. But soon, Prescott and the Cowboys' dreams of postseason success was brought to a halt. 
In their Gameweek 5 matchup against the Washington Football Team, Prescott suffered a brutal leg injury which saw him sit out the rest of the season. 
ADVERTISEMENT
Article continues below this ad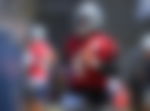 Two surgeries and months of rehab later, Prescott is finally fit and ready to take the field again. Thus, understandably, Cowboys fans as struggling to contain their excitement. And one fan, in particular, cannot wait to see Prescott play for the Dallas Cowboys again. 
Cowboys cornerback Trevon Diggs' son, Aaiden, is a big fan of the quarterback. But when he finally got the chance to meet his idol, things didn't go quite as one would expect. 
Young fan confuses Dak Prescott for Patrick Mahomes
During a segment of HBO's Hard Knocks, Diggs and his seen were seen interacting with the production crew. It was then that four-year-old Aaiden Diggs professed his admiration for Dak Prescott. 
Little did he realize that he would soon get the chance to take meet his "favorite quarterback in the world."
Prescott was informed about young Aaiden being a fan and thus decided to drop by and meet him. But as soon as he walked in, he got a response which he surely wasn't expecting.  
ADVERTISEMENT
Article continues below this ad
"So you're Patrick Mahomes?," asked Aaiden. The camera crew and Trevon Diggs couldn't help but laugh at the awkward scenario that Dak Prescott was put in. 
But, thankfully, Prescott being the good sport that he is played it off by asking the young fan whose jersey he was wearing. It was at this moment that it dawned on Aaiden that he was meeting his favorite QB.  
Soon after, Prescott signed the little man's jersey which read "not Patrick Mahomes."
ADVERTISEMENT
Article continues below this ad
Aaiden will soon get to see Mahomes and Prescott in action when the Cowboys go on the road to face the Chiefs on November 21.