"Not Trying to Be Megatron"- DK Metcalf Addresses Comparisons with Calvin Johnson
Published 12/02/2020, 9:39 AM EST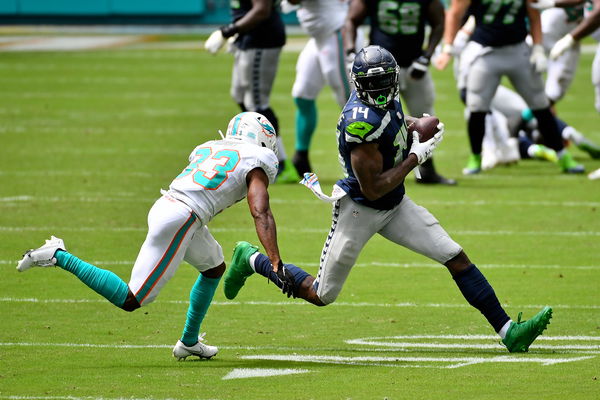 It's been an instant rise to stardom for the 22-year-old Seattle Seahawks wide receiver DK Metcalf. On 58 receptions in 2020, Metcalf has a total of 1039 receiving yards, with 9 receiving touchdowns to his name from 11 games.
The former University of Mississippi man was snubbed by Doug Pederson's Philadelphia Eagles in the 2019 NFL draft. Metcalf got his revenge on Monday night as Pete Carroll's boys made their way to a comfortable 17-23 win over the Eagles.
Once again, Metcalf drew plaudits for his standout impressive display in Week 12. On 10 receptions, Metcalf had 177 receiving yards against the Eagles.
ADVERTISEMENT
Article continues below this ad
DK Metcalf establishing himself as one of the best wide receivers in 2020
DK Metcalf addressed the conversation he previously had with Eagles defensive coordinator Jim Schwartz, who coached future Hall of Famer, Calvin Johnson, in Detroit. Schwartz said something that irked Metcalf.
"One of the defensive coaches came up to me and it kinda made me mad that he was like, 'I was in Detroit with Megatron but you're not there yet'.
"In my mind, I'm not trying to be Megatron. I'm trying to be me. I had a little chip on my shoulder the whole game," Metcalf said after the game.
Calvin Johnson spent the entirety of his 9 years in the NFL with the Lions. On 731 receptions, Megatron had 11,600+ receiving yards to his name and made the Pro Bowl team on 6 occasions.
ADVERTISEMENT
Article continues below this ad
However, here's what Seahawks quarterback Russell Wilson said about Metcalf after Monday's comprehensive win.
"They got to try to do something. Can't get in his (DK Metcalf) head. It's hard to cover him. In my opinion, he's unmatchable," Wilson added via NFL Network.
Coach Carroll's Seahawks side are now leading the race for the NFC West Division title. They are currently on an 8-3 record heading into Week 13.
ADVERTISEMENT
Article continues below this ad
Russell Wilson and Co. will go up against the high-flying New York Giants this weekend. A win against the Giants will put the Seahawks in the driving seat to secure an early playoff spot.