'Nothing Malicious': Pittsburgh Steelers DT on Seemingly Punching Justin Herbert
Published 11/22/2021, 11:05 AM EST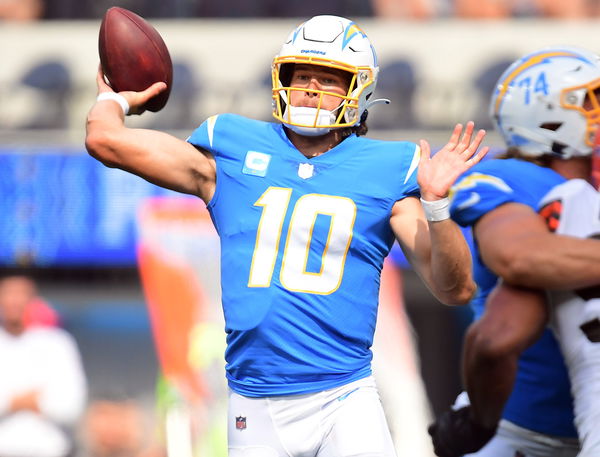 ---
---
Pittsburgh Steelers defense had enough after suffering all the blows from the Justin Herbert led Los Angeles Chargers wave after wave. And so the Steelers defensive captain Cameron Heyward seemed to have tackled down the Chargers quarterback and apparently punch him in the stomach.
ADVERTISEMENT
Article continues below this ad
Pittsburgh Steelers and the Chargers filled the fourth quarter play with frustration and heated plays all the time. But the apparent punch thrown by the defensive captain Cameron Heyward to Justin Herbert took the heat to another level. For that aggressive action the tackle could have gotten ejected, it could even bear Heyward some cost of money after the NFL reviews the play.
ADVERTISEMENT
Article continues below this ad
Pittsburgh Steelers' Cameron Heyward on the alleged punching incident
Although the defensive tackle has something else to say. According to him, the play looked as if he had punched Justin when, in fact, his other hand was stuck and when he tried to get up, he fell right at the quarterback, making it look as if he had punched him. And when watching it in slow motion, it seems even worse.
Steelers DT Cameron Heyward says the play on which he appeared to punch Justin Herbert on the ground was just a misunderstanding that looked weird on TV: pic.twitter.com/Y0EGoDsrRf

— Greg Beacham (@gregbeacham) November 22, 2021
"To be honest, I was running after the ball and I caught my hand under so when I was trying to get back up, I couldn't get up and I fell back on him," Heyward said. "I know it looks terrible. There was nothing malicious behind it. I don't think I was trying to punch him."
"I know it looks worse than it is in slow motion," Heyward said. "I'm sorry if I did anything to offend anybody. I wish I said more to Justin after it but there was nothing behind it."
Justin Herbert in response to the punch
The officials did not think of the play to be ejection worthy, as it almost seemed that Cameron tripped on the quarterback. "It just didn't look like it rose to the level of a foul that would result in a disqualification," NFL senior vice president of officiating Walt Anderson explained in a pool report.
ADVERTISEMENT
Article continues below this ad
However, it did not matter to Justin Herbert as he shrugged it off like nothing had happened. "He's a tough player. Football's an emotional game. Whatever happened, happened. We'll shake hands and say, 'Good game' after the game," he said.
ADVERTISEMENT
Article continues below this ad
The Chargers dominated almost the entire game, however the Steelers took a lead briefly in the fourth quarter of the game with just 3:24 minutes' time left in the timer. But the Chargers scored the game.