"Odell Beckham Jr. is a Prideful Player" – Cleveland Browns Coach Lauds Star Wide Receiver
Published 10/09/2020, 1:00 AM EDT
Odell Beckham Jr. moved to Cleveland from New York in 2019. The highly-rated wide receiver made the choice to join the Browns after spending five seasons with the New York Giants. However, his 'dream move' has not gone as planned over the last 18 months.
His first year with the Browns under former coach Freddie Kitchens was inconsistent at best. Prior to the start of the 2020 season, 'OBJ' declared that this year would be different for him and his teammates.
But everything seemed gloomy as the Browns were humbled in Week One by a 6-38 loss to the Baltimore Ravens. However, they've bounced back with three successive victories since then, including a dominant 38-49 win over the Dallas Cowboys last weekend.
ADVERTISEMENT
Article continues below this ad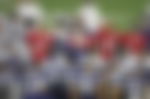 Cleveland Browns OC Alex Van Pelt gives his two cents on Odell Beckham Jr.
After four games, Odell Beckham Jr. has 230+ receiving yards and three receiving TDs to his name. Not to forget about his highlight 50-yard rushing touchdown against the Cowboys in Week Four.
Here's what Cleveland Browns offensive co-ordinator, Alex Van Pelt, said about the former New York Giants man earlier this week.
"Absolutely, he is an extremely dynamic player. He can do a lot of different things, and he does it at an extremely high level. It is our job to find ways to get him the ball. As you can see there, going back to him again with the second time of the game on the reverse play, just putting the trust in the players like (Head) Coach Kevin (Stefanski) said."
ADVERTISEMENT
Article continues below this ad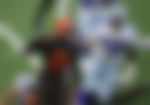 "He really came through for us, and we expect that moving forward. We have to get the ball to him early and get him going because he really is a talented guy that can do a lot of things with the ball in his hands, whether he is catching it or running it."
"I think so. He is a very prideful player. Obviously, he wants to be great. Guys like that, when they do not have a chance to show their greatness, kind of get frustrated at times. What a better stage than in Dallas to do it in a big game and then really pulled us through to a victory there at the end. That was special for him, I am sure, and does remind everybody of the talent that he does have," Van Pelt told the team's official website.
ADVERTISEMENT
Article continues below this ad
The Browns take on the Indianapolis Colts on Sunday night. Following that, they have two tough fixtures lined up in the form of Ben Roethlisberger-led Pittsburgh Steelers and the Joe Burrow led Cincinnati Bengals. Coach Kevin Stefanski will hope that his players continue to play at their current peak level if they want to make the playoffs this year.