'Once a Giant, Always a Giant': New York Giants Legend Reacts to Tremendous Honor
Published 11/29/2021, 1:32 PM EST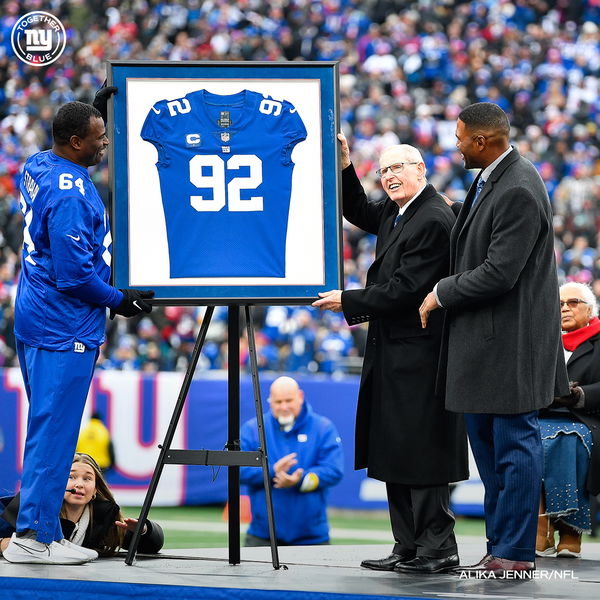 At halftime during the Week 12 match against the Philadelphia Eagles, the New York Giants retired their jersey number 92. This jersey was previously by former Super Bowl-winning defensive end Michael Strahan.
The New York Giants drafted Michael Strahan in 1993 as the 40th overall pick. He dedicated his 15 year NFL career to the Giants as he retired in 2007 with the franchise winning the Super Bowl in his last stretch, and the No. 92 jersey was never worn by a player since.
ADVERTISEMENT
Article continues below this ad
Michael Strahan on his number being retired by the New York Giants
Michael Strahan is the franchise's all-time leader in sacks (141.5). He held the NFL's single-season sack record (22.5) and was the four-time first-team All-Pro. "I never dreamed of this," Strahan said. "I'm just so thankful to be here." Strahan has been honored many times, even after his duty as the DE had completed. He was inducted into the Giants' Ring of Honor in 2010 and the Pro Football Hall of Fame in 2014.
"To be here today doesn't mean my journey is over. It just means my journey in the uniform is complete. I want to thank [the fans] for taking a 15-year journey with me. I love you, New York Giants fans," said he.
While discussing the New York Giants' disastrous 4-7 record after 12 weeks of the regular season, the defensive legend seemed to have a positive approach. "We will be back," Strahan said. "We will be up again. I guarantee you that."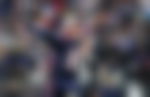 The Giants delivered a ceremony worthy game
ADVERTISEMENT
Article continues below this ad
The Giants were leading the Eagles by 3-0 in halftime. However, they took off in the second half as they finished the game with a scoreline of 13-7. Throughout the game, the Giants were well aware of the historic importance of that afternoon and what it meant for the franchise.
ADVERTISEMENT
Article continues below this ad
"To be honest with you, when you get a guy being honored like that, you don't want to go out there and lay an egg," current Giants coach Joe Judge said. "Let's be honest with it; you never want to do that, but you don't want to go out there, Michael Strahan is being honored — the great player he was and what he did for this team — you don't want to go out there and lay an egg. Especially defensively. Those guys are conscious of it. Leonard Williams said … 'It's good to see Strahan out here.'"