Orlando Brown Jr Sheds Light on Patrick Mahomes, Tyreek Hill and Travis Kelce's Impact on Chiefs Offence: 'Call it the Michael Jordan Effect'
Published 01/18/2022, 3:12 AM EST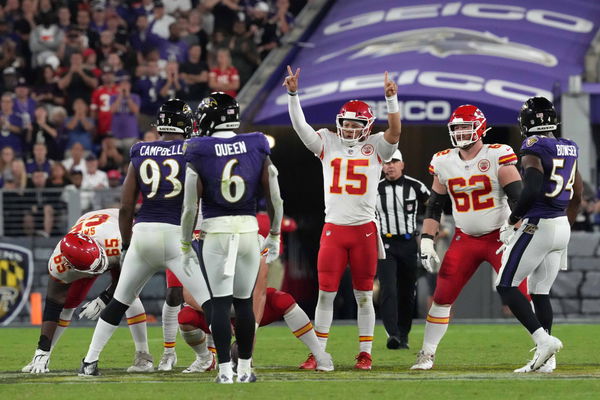 NFL franchise Kansas City Chiefs and OT Orlando Brown Jr. are off to a terrific start in the playoffs after a slow start to their regular season. The Chiefs were firing on all cylinders during the pre-season but were running into some issues at the start of the season. Unforced turnovers were a recurring issue for the Chiefs as pressure piled up on QB Patrick Mahomes.
But the offense ended up hitting their stride as weeks progressed. The offense clicked more often and turnovers went down gradually. They went on an unbeaten run to end up with a 12-5 win-loss record and clinching the AFC West title in dominating fashion. So entering the playoffs they came up against Mike Tomlin's struggling Pittsburgh Steelers (9-7).
ADVERTISEMENT
Article continues below this ad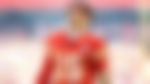 An aging warhorse in QB Ben Roethlisberger, Steelers luckily made it into the postseason. The Sunday night Wild Card game did go as many Chiefs fans predicted it would go.
Also talked to Orlando Brown Jr about how the presence of Tyreek Hill + Travis Kelce instantly boosts this #Chiefs offense: "It's just like how PIT talks about playing w/ TJ Watt.

"You can call it the 'Michael Jordan Effect.' Like Pat, they raise everyone else's level of play."

— KimberlEY A. Martin (@ByKimberleyA) January 17, 2022
Patrick Mahomes and the Chiefs Dominate The Steelers
Despite the Steelers opening the scoring, Mahomes and his offensive line did show their ridiculous speed to send them home. QB Patrick Mahomes came to play with a string of consecutive touchdown passes and eliminated Big Ben and the Steelers with a 42-21 scoreline.
ADVERTISEMENT
Article continues below this ad
The Chiefs accumulated 6 TD passes, putting all their offensive struggles at the start of the season to bed. Most of the passes, 5 in total, were courtesy of QB Patrick Mahomes who threw for 404 yards. One of their newest additions to the squad, Orlando Brown Jr. hailed the impact of both Travis Kelce and Tyreek Hill.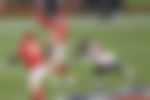 While talking about their impact on the Chiefs' offense, he states, "It's just how Pittsburgh talks about playing with TJ Watt. You can call it the Michael Jordan effect. Like Pat, they raise everyone else's level of play." The OT is not far from the truth behind the Chiefs' successes this season.
ADVERTISEMENT
Article continues below this ad
The trio of Mahomes-Kelce-Hill has been the major driving force for Chiefs finding consistency this season. The effort with the speed of their offense bamboozles opposition before they realize what just happened. If Chiefs are to realize the 2019 Super Bowl Championship winning feeling once again, this trio needs to be on their game every game.