"Our Team Has the Right Mindset to Do It" – Josh Allen on Reviving Buffalo Bills' Past Glory
Published 06/26/2020, 12:51 PM EDT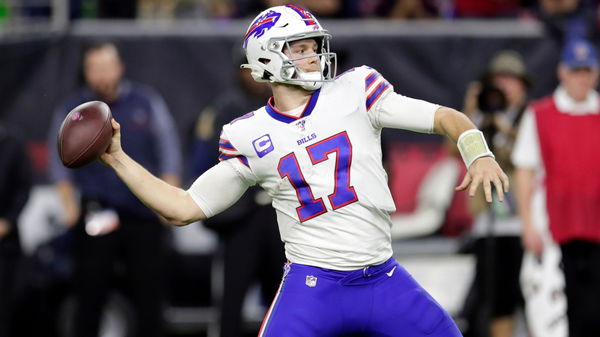 Since he was drafted by the Buffalo Bills in 2018, quarterback Josh Allen has only been improving and putting on some strong performances. He finished the 2019 season with over 3,000 passing yards and 20 passing touchdowns. With the foundation that Sean McDermott has built at Buffalo and support from a strong team (including Stefon Diggs), Allen could just be able to lead the Bills into a brilliant postseason this year.
ADVERTISEMENT
Article continues below this ad
Allen's take on Buffalo
Having spent two years in the city, Allen seems to really like it. "Buffalo is a football city, for sure," the quarterback told SiriusXM NFL Radio. "The people are so great. All they want to do is, you know, talk football with you… You know, the fun that they have at the games, the tailgates, you see all these videos of, you know, Bills Mafia jumping off RVs into flaming tables. Like that stuff is real."
ADVERTISEMENT
Article continues below this ad
Allen added that for the residents of Buffalo, "every year is our year. You know, at the beginning of the season, it's our year." That's the kind of support the Bills garner from their hometown. "[The people of Buffalo] are just so happy to be around each other and hang around each other and watch some good football."
Allen's future plans for the Buffalo Bills
ADVERTISEMENT
Article continues below this ad
Josh further said that he wants to bring back the dominant force that the Bills were in the 1990s. "I hear about it all the time, about the early '90s, of, you know, when [Jim Kelly] and Andre Reed and Thurman [Thomas] and Bruce [Smith] had the city buzzing. That's really the feeling that we're trying to get back, that we're trying to bring back to Buffalo… Our team has the right mindset to do it here pretty soon."
At the height of their game in the '90s, the Bills had not just four Super Bowls appearances but also eight seasons with at least 10 wins. Data shows that the New England Patriots' 2010 decade has been the best since the AFL-NFL merger with 129-37. However, with Brady now playing for the Tampa Bay Buccaneers, Allen and the Bills have a great chance of becoming one of the top teams in the AFC.
With all said and done, Josh said he just wants to play football now. "If it's 80,000 people or zero people, I just want to be one the field with my guys and [work] to achieve a goal."
ADVERTISEMENT
Article continues below this ad
"We're looking forward to playing this year," was Josh Allen's concluding remark.