"Watch Daddy Sling": An Overconfident Blaine Gabbert Threw Multiple Interceptions Seconds After A Rousing Address, Claims Taylor Lewan
Published 06/16/2022, 1:00 PM EDT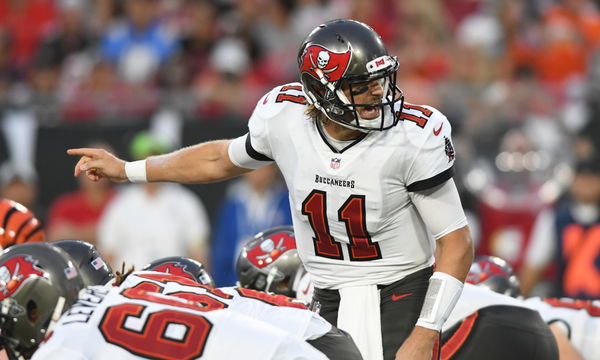 The Tennessee Titans have produced some true legends. OT Taylor Lewan has also witnessed some historic events. During his time with the Titans, he worked with some notable quarterbacks. He does, however, have a special moment with former Jags' first-round pick Blaine Gabbert. In a recent appearance, he tells the story, which is well worth reading.
In his 10-year run in the NFL, quarterback Blaine Gabbert has been a journeyman. Aside from the Jacksonville Jaguars, he's been with San Francisco, Arizona, and Tennessee. As of now, he is in Tampa Bay Buccaneers and will probably serve as the backup for Tom Brady.
ADVERTISEMENT
Article continues below this ad
OT Lewan narrates one of the NFL's ironically hilarious tales
In the 'Bussin' With The Boys' podcast, Taylor Lewan narrows down Blaine Gabbert and his overly optimistic attitude on the field. That was when he came in as Marcus Mariota's replacement. OT Lewan recalls the huddle of moments, mentioning that the game was at Indy.
He then continues, "There's a 3-step drop, and it's real quick. I go for the cut, and I miss my cut. And I roll on my back and I am looking at the quarter—Looking at Blaine like, 'get the f*****g ball out of your hand'. He throws it right at Darius Leonard's chest. Dude, you just said you're gonna 'dice these kids up.' — It was a win and get in game. We won that game, we're gonna make the playoffs. Last game of the year. Marcus got hurt again or something happened. And Blaine was like, "You boys just hold 'em up. Watch daddy sling it!"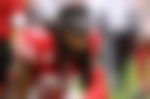 ADVERTISEMENT
Article continues below this ad
Tennessee's momentum has shifted because of the throw towards the opponent. The game slips away from them. This culminated in a 38-10 blowout loss.
Will Blaine Gabbert have his moment?
Gabbert's biggest flaw was his inability to manage under intense stress. Whenever the conditions were not ideal, the quarterback tumbled and quickly showed that he was unfit to be a starting QB. Blaine was selected with the 10th pick overall in the 2011 NFL Draft by the Jacksonville Jaguars. But it didn't work out, and he's been stuck in backup roles ever since.
ADVERTISEMENT
Article continues below this ad
Despite playing for ten years in the NFL, Blaine Gabbert has yet to display some on-field prowess. But he's still in the competition. He's been Tom Brady's backup in Tampa Bay for the past two seasons and is in for another season in 2022. He can still shine, but only if he doesn't get overly confident and is durable.
Watch This Story: "There Were Like A 1000 girls there": Gisele Bundchen Remembers Tough Initial Days Before She Married Tom Brady