Overreaction? Aaron Rodgers and Erin Andrews Under Fire for 'Post-Interview Hug'
Published 12/28/2021, 11:39 AM EST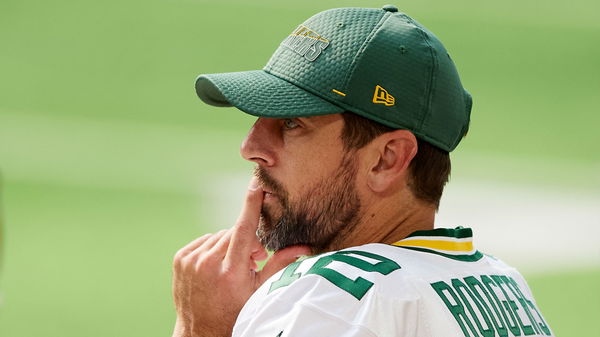 ---
---
Interviews have always been a big part of any sport. Without them, we wouldn't have so many classic Aaron Rodgers moments. But ever since the COVID-19 outbreak last year, everybody has been socially distanced. It even affected the pre and post-match interviews.
ADVERTISEMENT
Article continues below this ad
Every interview these days needs to be conducted while wearing masks and standing six feet apart. This practice avoids the spread of the virus and keeps the risks low. After the Christmas day game where Aaron Rodgers made the record, everyone wanted to talk to him.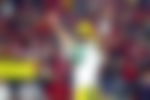 One of the first people to interview Rodgers was Fox sideline reporter Erin Andrews. Even though they conducted the interview by following all the protocols, what they did afterward made some people mad.  
ADVERTISEMENT
Article continues below this ad
Aaron Rodgers interview with Fox 
Erin Andrews wasted no time capturing Aaron Rodgers' first thoughts after the game. She got to interview Rodgers. The first thing she talked to him about was the moment between him and Myles Garrett. Garrett had accidentally stepped on Rodgers' toe and injured it again.
Aaron answered her, and then Andrews congratulated him on breaking Brett Favre's record. She asked Rodgers what it meant to him. He replied, "That's a lot of touchdowns," Rodgers continues, "It's a lot of moments in those touchdowns. -I'm very fortunate to have played with the guys I played with, to be coached by the men I was coached with, coached by over the years. I have so much respect and gratitude for this game.
He adds, "Appreciate Brett with the shoutout. I got to sit behind a legend for three years and see what greatness looked like firsthand." After a couple more questions Erin Andrews ended the interview by wishing Aaron Rodgers, "Merry Christmas."
The "controversial" hug
After the interview ended, the camera was still rolling. It was focused on Aaron Rodgers and in capturing his moment. Rodgers took the headset off and walked towards Erin Andrews. Just like any human's natural instinct, he high-fived the reporter and hugged her.
ADVERTISEMENT
Article continues below this ad
ADVERTISEMENT
Article continues below this ad
This action pissed off a lot of people. They started calling both Rodgers and Andrews unprofessional. People are still worried about the virus. Even though things are starting to look a bit eased, people are still uptight about it. It is a global pandemic after all. You have to stay safe all the time. 
Watch Story: Tom Brady, Aaron Rodgers, OBJ and More; NFL Stars Who Accepted Salaries in Bitcoin