'Parents Should Be Ashamed': NFL Twitter In Disbelief Over Cleveland Browns Fans Lining Up To Receive Deshaun Watson's Autograph After Recent Trial Exposes QB's Wrongdoings
Published 08/10/2022, 12:00 PM EDT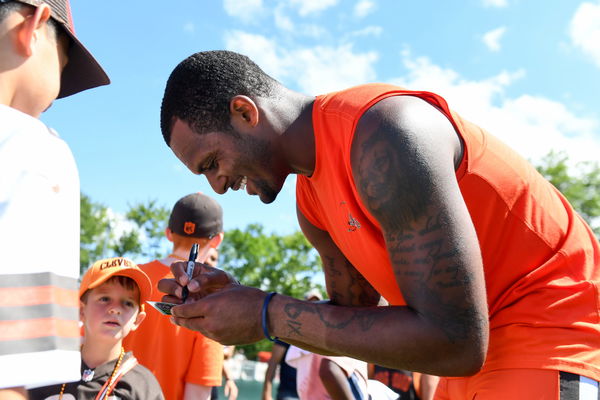 The Cleveland Browns surround some troubles with Deshaun Watson now receiving a suspension stretch. The upgrade is a big deal for the fans, as they are now free from the Baker Mayfield era. Some recent training camp footage shows the Browns' new QB1 signing items for the attendees. But the NFL Universe is not buying it.
ADVERTISEMENT
Article continues below this ad
Deshaun Watson was part of a headlining trade when the Houston Texans opened the trade window. The Browns swooped in and gave him a fully guaranteed contract. But with Watson also came the multiple misconduct troubles he was facing. There could be some worries with the games he will not be a part of due to suspension.
ADVERTISEMENT
Article continues below this ad
NFL Twitter is in a meltdown over Cleveland Browns fans
NFL Insider Jordan Schultz re-shared a video of Deshaun Watson signing items for the fans. The striking factor in the clip remains that despite the allegations, countless fans wait in queue for an autographed collectible from the new QB1. Nevertheless, the Cleveland Browns Enthusiasts are very welcoming toward Watson.
It did not sit well with some NFL fans. They did not seem to like the situation and had very divisive thoughts over the fanbase.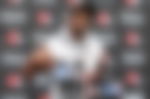 A user finds it disgusting and also mentions that the parents should be ashamed of themselves.
Parents should be ashamed, disgusting

— danthefireman06 (@danthefireman06) August 10, 2022
A user sees the good side by mentioning that Cleveland fans are being generous towards Deshaun Watson.
Cleveland is actually embracing him- sorry if that offends u

— Dawggggs (@DawgPou99786476) August 9, 2022
Moreover, a user calls that such things can only take place in Cleveland.
Only in Cleveland…

— Cody Bellinger Truther (@trevorcisneroz) August 9, 2022
A user calls the place to be weird, but another cane in for some defense.
What's weird is other people caring who others cheer and root for. That's what's weird why do you care about who someone else roots for?

— Justin (@JustinMize16) August 9, 2022
A user simply called the video weird to watch.
This is really weird to watch.

— Dan Kelley (@DanKelley66) August 9, 2022
A user called that Watson's PR team would be proud of him.
I'm sure his PR team appreciates this 🙏🏼

— Nicholas Harper (@nbharper) August 10, 2022
Deshaun Watson might face harsher punishment from NFL
ADVERTISEMENT
Article continues below this ad
The NFL's disciplinary officer suspended Deshaun Watson for the first six games of the 2022 season. It comes after the civil lawsuits filed by 24 women for alleged misconduct. While the Browns owner supports the decision, Watson and the NFLPA will not appeal against the levied six-game suspension and requested the NFL to do the same. But the league is not holding back.
The NFL is appealing the Deshaun Watson 6-game suspension.

— Ian Rapoport (@RapSheet) August 3, 2022
ADVERTISEMENT
Article continues below this ad
As per Ian Rapoport, the NFL is appealing Sue Robinson's decision. Now, Goodell or a designee will hear why the NFL believes the suspended sentence should be just six games. Neither party may give evidence that they did not offer previously. It will become a sped-up protocol. Deshaun had six games in suspension, but it looks like he has some more troubles to come.
Watch This Story: NFL Wants To Punish Deshaun Watson With Such Severity That Cleveland Browns Will Be The One's Who Will Suffer The Most