Pat McAfee Compares WWE Legend Brock Lesnar to Packers QB Aaron Rodgers
Published 10/30/2021, 10:19 AM EDT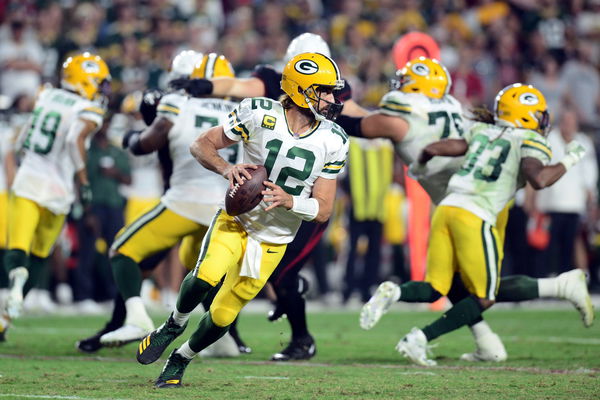 ---
---
Aaron Rodgers has been in phenomenal shape ever since losing his first game against the Saints this season. It is because of Rodgers that the Green Bay Packers have been able to bounce back; they defeated the undefeated Arizona Cardinals and that too without the likes of their three main receivers.
ADVERTISEMENT
Article continues below this ad
Rodgers has certainly proved that he belongs in the league, a notion which many believed to be otherwise after his first game of the season. However, his exceptional performance and mesmerizing outcomes after that have shut many of his haters.
ADVERTISEMENT
Article continues below this ad
Pat McAfee compares Brock Lesnar with Aaron Rodgers
Pat McAfee, the sports analyst, podcaster and wrestling commentator, who is also a great friend of Rodgers, gave a reference to the quarterback on a wrestling show when Brock Lesnar showed up on WWE SmackDown this Friday.
"Brock Lesnar showed up and started throwing humans around like Aaron Rodgers throws footballs on Thursday nights," said McAfee. His love for Aaron Rodgers and the NFL can never keep him from pointing at those two, even if he is commentating on other sports.
Surely Aaron Rodgers' Thursday night display against the Arizona Cardinals was worth the commendation as he rose from hitting rock bottom against the Saints to bouncing back sky-high after beating the unbeaten Cardinals on Week 8.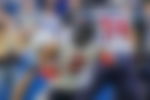 Green Bay Packers have bounced back big time
ADVERTISEMENT
Article continues below this ad
The Green Bay Packers have maintained a seven-game winning streak with the likes of some of AJ Dillon, Aaron Jones and Randall Cobb under Aaron Rodgers' wing. However, three of his favorite targets were sidelined during the week 8 fixture.
The NFL can't get enough of their favorite quarterbacks flourishing after intense scrutiny. And now Cowboys, Cardinals, Rams, Buccaneers, and the Packers are the only teams left with just one loss so far this season.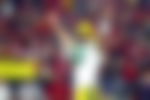 As the Rodgers-led Packers continue to take on the NFL by storm, such references are more to come. Rodgers has proved that he will make his last dance with the Packers a memorable one at all costs.
ADVERTISEMENT
Article continues below this ad