Patrick Mahomes, LeBron James, Ezekiel Elliott and Others React to Ohio State Buckeyes' 56–7 Destruction of Michigan State
Published 11/21/2021, 4:12 AM EST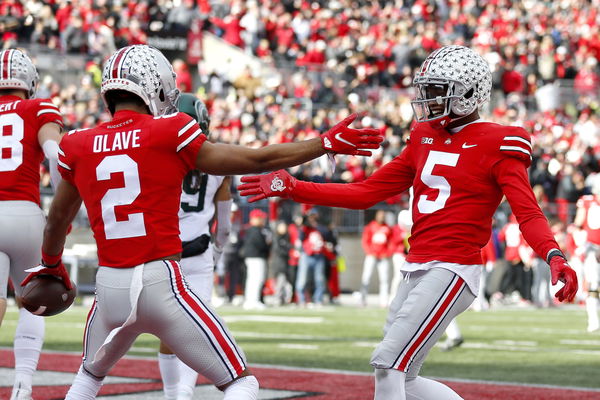 It was more than just a nightmare for the Michigan State as they lost by a whopping margin of 56-7 to their archrivals, Ohio State Buckeyes. Although the Spartans certainly seemed to have curbed the offensive assault of the Ohio State in the second half of the game, but their failure in the first half was something that trailed the Spartans to a record-breaking loss.
"This is more than just about winning the game," Ohio State coach Ryan Day told CBS Sports prior to kickoff. But when the game was halfway through, it did not seem like a playoff elimination game, rather it was more like a joke. It felt as if the Michigan head coach needed to throw the towel after they trailed their rivals by 49-0 at the end of the second half.
ADVERTISEMENT
Article continues below this ad
NFL reacts to the Ohio State Buckeyes' triumph
The elimination game did not seem like one at all, as Ohio State completely dominated the play that at one point the NFL community took to Twitter to react to the Michigan State crisis. The game was so dominated that the Buckeyes quarterback C.J. Stroud threw six touchdowns for 400 yards and two interceptions in the first half itself. "Everything we thought we were going to get, we got," Stroud said.
Big sporting celebrities and athletes like Patrick Mahomes, LeBron James, Ezekiel Elliott and others went bonkers on Twitter as they watched the Buckeyes eat up Spartans through the first half of the game.
This is a statement game for the Buckeyes!

— Cardale Jones (@CJ1two) November 20, 2021
6TDs 400yds 2 incompletions in the first half Lolol 😂

— Patrick Mahomes II (@PatrickMahomes) November 20, 2021
Michigan State handed their worst loss in 50 years
ADVERTISEMENT
Article continues below this ad
"I told them, 'I don't want to hear a word on the bus or on the plane,'" Tucker said after his program's worst loss to Ohio State in the 50-game history of the series. "'We got a 30-minute plane ride, there's nothing to talk about.'"
You have to beat the best to be the best and that's what MSU is going to have to do this weekend vs. Ohio State! I'm looking forward to this incredible Big Ten matchup between my Spartans and the Buckeyes tomorrow at noon.

— Earvin Magic Johnson (@MagicJohnson) November 19, 2021
ADVERTISEMENT
Article continues below this ad
Michigan State has taken a devastating loss. A loss like this is tough young athletes to handle; as they departed from the Ohio Stadium, their heads bowed down with shame. Although being one of the most dominant teams of the NCAA, the Spartans will be back stronger.