"Patrick Mahomes Makes Him Look Good": Fans React to Eric Bieniemy's Big Chiefs Announcement
Published 02/26/2022, 12:35 AM EST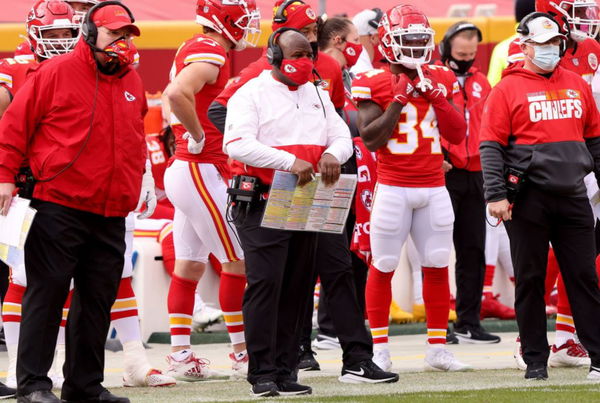 After a few weeks of job hunt, the Kansas City Chiefs Super Bowl-winning Offensive coordinator Eric Bieniemy returns to Arrowhead for another season with Patrick Mahomes. It was yet another offseason where he failed to land a head coaching job in the league despite being a well-qualified candidate for the position. 
As per NFL Network's Tom Pelissero, the 52-year-old returned to Andy Reid on a one-year deal for his fifth season as an OC with the Chiefs. Bieniemy interviewed with the Denver Broncos, Houston Texans, and the New Orleans Saints this season. He also considered the possibilities for college jobs, according to NFL Insider Adam Schefter. However, his offseason search was as dry as the previous two. 
ADVERTISEMENT
Article continues below this ad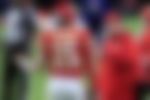 It is more good news for the franchise to welcome their star offensive coordinator after they lost their most likely replacement prospect, Mike Kafka, who accepted an OC job with the New York Giants. But apart from that fact, his partnership with quarterback Patrick Mahomes has been very fruitful. 
Fans react to Eric Bieniemy returning to Kansas City Chiefs
Bieniemy's tenure as the OC with the franchise started the same year Mahomes got the starting job. And the rest is history. Eric led the Chiefs to four consecutive AFC Championships, with one Super Bowl in 2020. Under his coaching, the Chiefs have never had a season with fewer than 12 wins and a rank lower than sixth in the NFL in points/yards per game.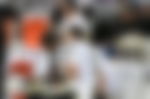 But of course, he could not have achieved it without the likes of the much talented and skilled quarterback Patrick Mahomes. Or so it can be said that the two complement each other in one way or the other. Although they faced a rough start to the season, this previous year. They still got back on track mid-season.
The Chiefs' fans blew up Twitter on that sudden announcement. Eric Bieniemy got the hits of trends, but not in a good way. The fans reacted to the OC returning to the franchise and not scoring a job again. 
WOW! I was peacefully ☮️ driving my car when I heard Eric Bieniemy was staying as Chiefs OC 😱. I bellowed in rage 🤬 and proceeded to mercilessly plow through many pedestrians on the sidewalk. Shame on you Kansas City Chiefs and Eric Bieniemy!!! 🤡🤡🤡

— Noah Gray burner (@TheGoatMahomes) February 21, 2022
ADVERTISEMENT
Article continues below this ad
ADVERTISEMENT
Article continues below this ad
It is not justifiable how could Bieniemy get so much hate despite the fact that he had an enormously successful spell with the franchise. What do you think about the matter? Let us know in the comments below!
Watch This Story: Tom Brady to Star in Road Trip Comedy Alongside Jane Fonda, Rita Moreno and More