Patrick Mahomes Recalls How a Brutal Dislocation Still Makes Him Avoid Plays That Might Put His NFL Career at Rest
Published 12/03/2022, 3:00 PM EST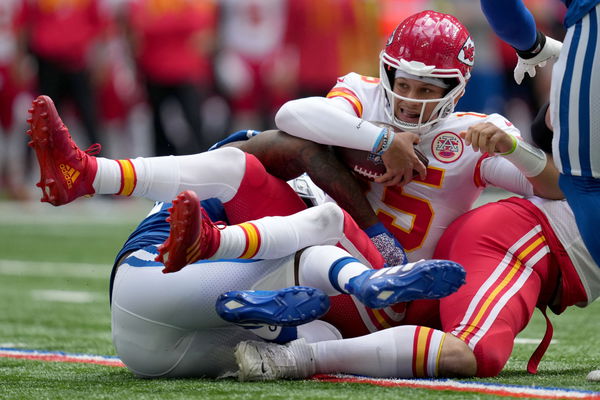 On the way to their second Super Bowl victory, the Kansas City Chiefs had a minor scare against the Denver Broncos. More than the result of the match, the fear surrounding the availability of Patrick Mahomes. While trying a quarterback sneak, one of the most athletic QBs ever dislocated his kneecaps. In spite of the horrific incident, Mahomes still came back to the field later in the match. And only served a few weeks away from the team. However, the experience has left a little resilience in the former MVP when it comes to QB sneaks.
Recently appearing on Travis Kelce and Jason Kelce's podcast, 'New Heights". The Kansas City quarterback recounted his horrific experience against the broncos. While talking about his success rate when it comes to sneaking in a yard or two, Mahomes said, "I'm like 95% and one kneecap short of being a 100%." Further explaining, "I believe in the quarterback sneak as well, but just sometimes you gotta watch out for your kneecaps."
ADVERTISEMENT
Article continues below this ad
How Patrick Mahomes dislocated a kneecap?
In 2019, the Chiefs visited Denver in order to play their game. After cruising through the first quarter, Mahomes and his team were leading by 10 to 6. However, on a 4th & 1 near the Broncos' red zone, the 27-year-old tried to sneak the ball into a first down. An opposition defender fell right on top of Mahomes, putting him in an uncomfortable position. "He fell on my knee and I remember being on the ground and just looking at it and my kneecap was in the side of my calf and I didn't know what do to so I just froze up," added the QB.
ADVERTISEMENT
Article continues below this ad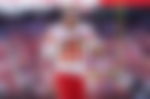 According to the Super Bowl winner, the worst part was the reactions he was getting from his teammates. With his players running away from him and turning their eyes on the sight. "My center's yelling get off me," revealed the 27-year-old. "I'm like, can't move. What do you want me to do? My kneecap is in the back of my leg." Fortunately, the X-rays came out to be negative and Mahomes was back in no time after just a couple of weeks away from the game.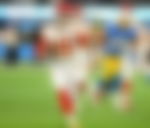 Since the incident, the Chiefs and Andy Reid have steered away from the play. So the throwing talent of the QB in itself is enough most of the time. One could wonder if people will ever see the former MVP attempt it again. And according to the team, they haven't completely washed their hands off of the QB sneak. Mahomes himself admitted that even though the HC is often against the call. There will be 'a time and a place for it.'
ADVERTISEMENT
Article continues below this ad
watch this story: After coming across tough defenses, Patrick Mahomes reveals the one thing terrifies him in this league.