Patrick Mahomes Reveals Excitement About New NFT Digital Art
Published 03/14/2021, 3:58 PM EDT
---
---
Patrick Mahomes is one of the best players in the NFL currently. The Chiefs' quarterback has often been regarded as one of the brightest young prodigies in team sports today.
ADVERTISEMENT
Article continues below this ad
Mahomes has enjoyed an impressive career so far, even at his young age, and many expect more great things from him. And it seems like Mahomes has decided to pursue another lifelong hobby – collecting.
Kansas City Chiefs' Patrick Mahomes spoke about his love for collection. Mahomes has recently ventured into the world of collecting digital art.
ADVERTISEMENT
Article continues below this ad
He revealed his penchant for collection emerged at an early age and talked about how his father encouraged him. Mahomes seemed excited at the prospect of exploring the world of digital NFT art collection.
"I think it all started when I was young. Collecting memorabilia myself, my dad got me in it early, getting bats, cards, whatever it was.
"And as I've started to see more and more things come out with the NFTs and seeing how they kind of gave them the digital way that the world's going collect memorabilia. To have another asset, it was kind of a no-brainer for me to get involved as quickly as possible." Patrick Mahomes hungry for redemption
While Mahomes' love for collection is great, his focus is still on the field. Mahomes is the brightest young talent in the NFL today.
In just 4 seasons in the NFL, Mahomes has become a league MVP and a Super Bowl winner. However, the end of the last season is sure to leave a bitter taste in his mouth.
Mahomes and the Chiefs entered the 2020 NFL season as the defending champions. And from the get-go, they looked like the favorites.
They were virtually unstoppable, and ended the season with a spectacular 14-1 record, the best in the entire league. Entering the Playoffs, the Chiefs looked even better, vanquishing everyone in front of them.
ADVERTISEMENT
Article continues below this ad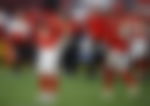 However, the Super Bowl was a rude awakening. The Chiefs lost the Super Bowl to the Buccaneers in an embarrassing fashion. Mahomes wasn't able to throw for a single touchdown, despite him still being the best player for his team that night.
Can Patrick Mahomes lead the Kansas City Chiefs back to a Super Bowl? He is still very young in his career, as is the Chiefs' core. If they are able to address the concerns in their defensive unit, the Chiefs will be a major contender next season as well.
ADVERTISEMENT
Article continues below this ad