Peyton Manning Records Under Threat Due to Expanded NFL Regular Season in 2021
Published 03/31/2021, 2:31 PM EDT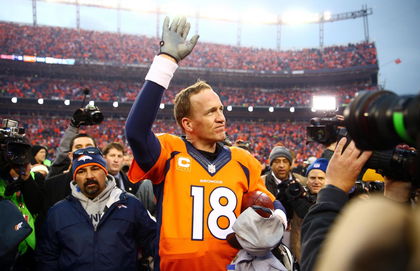 ---
---
Regarded as one of the greatest to have ever played the game, Peyton Manning is an NFL icon. The quarterback is one of only two in history to have won Super Bowls with 2 different franchises.
ADVERTISEMENT
Article continues below this ad
Peyton Manning did it first with the Indianapolis Colts in 2006, followed by another with the Denver Broncos in 2015. The only quarterback apart from Manning to achieve this feat is Tom Brady. So it's safe to say that Manning is in some elite company.
But there are two NFL records that Peyton Manning holds outright. And both were achieved by the quarterback during his phenomenal 2013 season.
ADVERTISEMENT
Article continues below this ad
All-time records of Peyton Manning could be broken 
In 2013, the Denver Broncos offense was one of the best to ever step foot on a football field, at least statistically. The Broncos were an offensive juggernaut recording 6 games with scores of over 40.
And Broncos quarterback Peyton Manning had a big role to play in it. The QB, who was starting just his second season with the franchise, put on some of the best performances of his life to guide his side to a Super Bowl matchup against the Seattle Seahawks.
And along the way, Peyton Manning set up some unprecedented numbers. The Denver Broncos quarterback set the single-season passing yardage record, with 5,477 passing yards.
That's an average of 342.3 yards per game. And if that's not impressive enough, he also threw 55 touchdown passes. That's 3.43 a game.
But both these records will now come under serious threat. The NFL recently announced the decision to play 17 games through the regular season. A shift from the 16 games played ever since 1978.
This means that Manning's records, though still difficult, are mathematically easier to achieve. Now, instead of 342 yards a game, a QB must average 322.23 yards to break Manning's all-time record.
ADVERTISEMENT
Article continues below this ad
ALSO READ- 'Monumental Moment'- NFL Commissioner Roger Goodell Confirms 17-Game Regular Season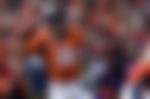 And as for touchdowns, the requirement goes from 3.43 a game to 3.29. Breaking Peyton Manning's records through a 16 game season seemed almost impossible. But with an extra game in hand, the task will be a bit easier to achieve.
ADVERTISEMENT
Article continues below this ad