'Looking Good Bro': Eli Manning Responds to Hilarious '4th Manning Brother' Claim
Published 11/20/2021, 3:48 PM EST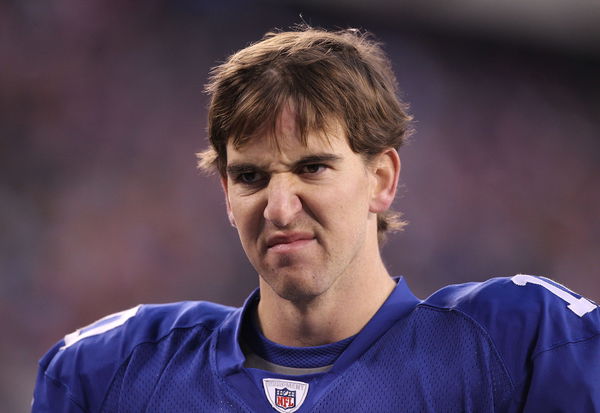 ---
---
Former New York Giants quarterback turned Manningcast co-host Eli Manning loves the notion of New Orleans Saints quarterback Trevor Siemian being named the fourth Manning brother after a media personnel points out the facial resemblance between them.
ADVERTISEMENT
Article continues below this ad
However, Trevor does not hate to be called the fourth Manning. In fact, he takes it as a compliment to be associated with an elite breed of quarterbacks. As when asked, "Has anyone ever told you that you look like you could be the 4th Manning brother?" The quarterback replied, "Yes, I have heard that before. I take it as a compliment, I guess," whilst sporting a big smile on his face.
ADVERTISEMENT
Article continues below this ad
Eli Manning on having another brother
The youngest of the three Mannings, later replied to that New Orleans Saints tweet by writing, "Looking good bro." Being happy with the fact that a quarterback as good as Trevor would love to be a part of the Manning clan. Although it turns out that the New Orleans quarterback certainly has some connection with the Manning football family, as the old man Archie Manning has served his term from 1971 to 1982 in New Orleans Saints.
Following their father's footsteps, son Eli Manning and Peyton Manning too became NFL quarterbacks for the New York Giants and the Indianapolis Colts, respectively. Peyton, who is a two time Super Bowl champion, ended his career with the Denver Broncos in 2015 who coincidentally drafted Trevor Siemian that same year. Eli played for 16 seasons with the New York Giants through and through. And just like his brother, Eli too won two Super Bowl championships during his career in the NFL.
ADVERTISEMENT
Article continues below this ad
Can Trevor Siemian fill up the Manning shoes
Now both the brothers run their own broadcast show Manningcast on ESPN2 during Monday Night Football. However, following the family tree, Cooper's son seems to be the next NFL prospect in the family tree. As the 16-year-old Arch Manning looks sharp as a quarterback of the Isidore Newman School.
ADVERTISEMENT
Article continues below this ad
Coming back to the most probable contender of being the fourth Manning brother, Trevor Siemian will start in his next matchup against the 4-6 Eagles and it is to be seen if he plays up to his expectations of being a Manning or not.