'Peyton Manning Type of Mind': LA Rams Superstar Draws Comparisons to NFL Legend
Published 12/18/2021, 6:15 AM EST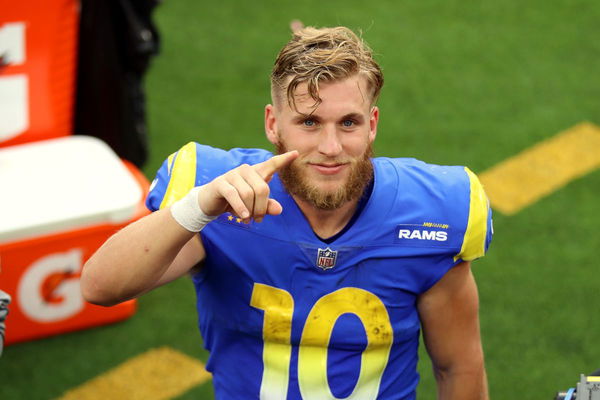 ---
---
Los Angeles Rams wide receiver Cooper Kupp is currently in one of his best years in the NFL this season. The talented receiver has outshined everyone. He is the quickest wide receiver in football today. If the Rams want to score a touchdown, all they have to do is get the ball to Kupp. 
ADVERTISEMENT
Article continues below this ad
The gifted athleticism of Cooper Kupp
The 28-year-old Cooper Kupp was the Rams' third-round draft pick in the 2017 NFL Draft. Before making it in the NFL, Kupp played college football with the Eastern Washington Eagles football team. The PFWA All-Rookie Team selected Cooper in 2017. In 2015, he won the Walter Payton Award. During his years in the NCAA, he became the Division 1 Receiving Yards Leader. Kupp is a two-time Big Sky Offensive Player of the Year and a four-time First-team FCS All-American. 
ADVERTISEMENT
Article continues below this ad
Cooper has had a well-decorated career. But his current season with the Rams might be his best one yet. In the 13 games Kupp has played this year, he caught 113 passes for 1,489 yards. He has also made 12 touchdowns. Cooper Kupp is leading the NFL in all three of those categories.
Kupp is known for his quick thinking, reading the defense, and making decisions on his feet. Cooper can always find an opening to run through. Gifted with such a brain and talent attracts a lot of attention. This attention can be good. Because of his performances, Kupp gets compared to NFL legends like Peyton Manning.  
ADVERTISEMENT
Article continues below this ad
Is Kupp the next Peyton Manning?
The general manager of the LA Rams, Les Snead, appeared on the Coach McVay Show this week, comparing Kupp's mind to Peyton Manning. Even Matthew Stafford and Sean McVay have been talking about his football IQ for a long time.
ADVERTISEMENT
Article continues below this ad
During the show, Snead said, "Could spend all day talking about Cooper Kupp," he adds, "What a year. What a year he's had. It's remarkable what he's done, and it's really, really fun to watch. I've said this many times. He's got a Peyton Manning-ish-type of football mind, he just happens to be playing wide receiver. And now you're kind of seeing that all come to fruition." Ever since joining the Rams, Kupp has become the cornerstone of the offense. The GM knows that the wide receiver is destined for greatness.