Philadelphia Eagles' Search for a New Head Coach Deeply Intertwined With Carson Wentz's Future at Philly
Published 01/16/2021, 3:01 PM EST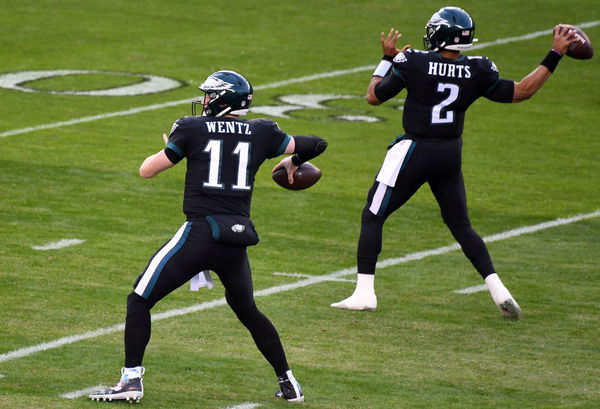 ---
---
The Philadelphia Eagles had their wings clipped in 2020. The team looked like a far-cry of the 2018 side that won the franchise it's first Super Bowl. 
ADVERTISEMENT
Article continues below this ad
Now, without a Head Coach after the firing of Doug Pederson, the Eagles have a lot of problems to sort out if they are to fly high again. Not only does the side need a new Head Coach, but it also has a decision to make regarding their starting quarterback. 
A lot of the Philadelphia Eagles' blemishes were down to the fact that their star quarterback just could not make plays. Carson Wentz, the quarterback they believed would be a mainstay for years to come imploded dramatically. 
ADVERTISEMENT
Article continues below this ad
So much so that the side had to bench him for rookie QB Jalen Hurts. And many believe that the Eagles will be better off in 2021 with Hurts in the pocket. But these decisions will not be easy to make for the management given the various factors are in play. 
Sticking to Wentz the game plan for the Philadelphia Eagles
The NFL Network's Mike Garafolo during a segment of GMFB talked about the plans the Eagles have going forward into 2021. And how the position of Head Coach and starting QB for the next season are intertwined. 
"Sources have told me that what the team is telling Head Coach candidates in interviews is that the coach will obviously have a big say in how they handle the quarterback situation," said Garafolo.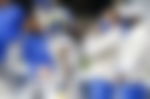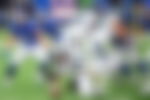 But then again, he said that the management would prefer getting onboard candidates who share their vision of starting Wentz for 2021.
"They do believe in 9 this guy (Wentz), they want him back, so if you're a head coach going into those meetings saying, 'I want Wentz out and Hurts in,' I think that's probably going to hurt your standing in this interview process."
Many believe that coach Pederson's sacking was down to the fact that he wanted Hurts to lead this team out next season. If this is so, it's a big call to fire the Head Coach who led the franchise to their first Super Bowl in history.
Money talks when it comes to Wentz inclination
Sure, Wentz is a good player. Or was a good player. But the decision to stick with him ultimately boils down to the money. Wentz had earlier signed a 4-year $128 million contract extension with the Eagles back in 2019. This contract is set to kick in from March 2021.
Thus, given the sort of money they've invested in this player, it's only normal for the Eagles management to hope and pray for better returns come next season.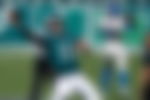 With not many teams likely to be interested in an injury-prone QB who eats up that much cap space, the Eagles look to have no other option but to keep him at Philly. 
ADVERTISEMENT
Article continues below this ad
And Wentz clearly has no intentions to be a multi-million dollar bench warmer. The Philadelphia Eagles wouldn't want that either. 
With the search for a new Head Coach now firmly underway, Eagles' fans will hope that in 2021, they'll get to see more of the trailblazing Wentz of the past.  
ADVERTISEMENT
Article continues below this ad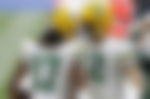 Trending Stories