WATCH: Jalen Hurts Almost Wrecks Cameraman During Buccaneers Fixture
Published 10/15/2021, 2:03 PM EDT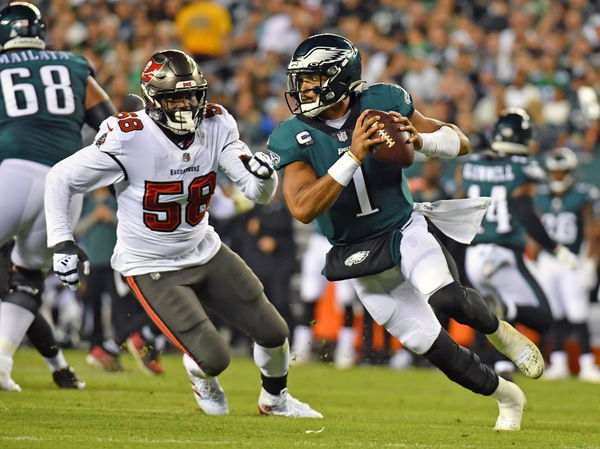 ---
---
Jalen Hurts got a bit too excited while rummaging through the Tampa Bay defense as he scores the second touchdown for the Philadelphia Eagles in the third quarter of the game.
ADVERTISEMENT
Article continues below this ad
The 23-year-old Eagles quarterback after his touchdown threw the ball towards the cameraman, startling him for a moment. Jalen threw the ball in the pure thrill of the moment, though it looked as if he held a grudge against the cameramen.
ADVERTISEMENT
Article continues below this ad
Jalen Hurts leading the Eagles to their third loss
However, his touchdown helped little to the team as the Eagles succumbed to the 21 point lead taken by the Bucs early in the game. The Eagles, however, managed to close in on the 21 point gap produced by Tom Brady's side, finishing the game with 22-28 on the scoreboard.
The Eagles' rookie quarterback was no match to the 44-year-old GOAT of Tampa Bay Buccaneers. Jalen finished with 12 of 26 passes completed, covering 115 yards with one touchdown and an interception.
While Tom Brady delivered his usual passing spell with 34 of 42 passes completed, covering 297 yards with two touchdowns and an interception.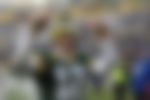 Can Hurts prove his worth next time?
ADVERTISEMENT
Article continues below this ad
Following the defeat against the Bucs, the Eagles recorded a 2-4 stretch so far this season with little to no signs of improvement. However, the Eagles might suffer even more in their upcoming matches as the franchise trades one of their most experienced tight ends in their roster, Zach Ertz, to the Arizona Cardinals following their Thursday night loss.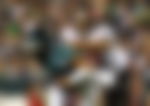 Jalen is off to a terrible start this season and has to improve in many aspects as he moves on further. And no hurling balls towards cameramen is not one of them. The 23-year-old QB, though rushed for two touchdowns himself, he failed to produce desired results for the team.
ADVERTISEMENT
Article continues below this ad
With the Eagles meeting up with the 3-2 Las Vegas Raiders in the next week. Jalen has to prove his worth by pulling off MVP-worthy numbers against them or face the wrath of the critics.