PICTURE: Aaron Rodgers in a Jockstrap, a Unique Creation of a Denver Tattoo Artist
Published 05/23/2022, 1:30 PM EDT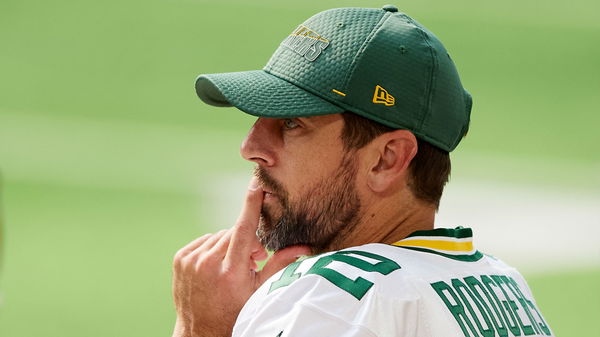 Football fans have unique ways to show admiration for their teams and favorite players. The sport has some of the wildest fans in the world. The most common fans show their love for the game with tattoos. Like the one Aaron Rodgers fan who made sure that his tattoo stood out. 
A-Rod is one of the most interesting figures in the entire league. He has done everything from sighting UFOs to shunning rumors about his sexuality. Fans love Rodgers because he is very entertaining on and off the field. An artist from Denver made a fascinating tattoo of Rodgers for one of her clients.  
ADVERTISEMENT
Article continues below this ad
Aaron Rodgers in a jockstrap?
Alisha Rice is a very talented tattoo artist from Denver, Colorado. Her expertise is in old-school traditional tattoos, and she's been tattooing since 1992. Seeing her work, a football fan had an idea for a pretty unique Aaron Rodgers ink. The picture of the tattoo of Aaron Rodgers in a jockstrap was uploaded by her on Instagram, along with a short clip. Little did anybody know, this piece would soon gain a lot of attention and become the topic of discussion. 
Rice told the Huffington Post, "The idea for the tattoo was a combination of the client wanting a traditional American style male pinup and a Packers tattoo." Her canvas was a Packers fan. The artist also revealed that the piece was not supposed to be about Rodgers. She picked his jersey because he's a Packers legend. "Particular jersey was selected because [he] is a football legend and the client admires him as a player and as a person," said Rice. Maybe this is the reason why the tattoo is missing Rodgers' iconic beard. 
ADVERTISEMENT
Article continues below this ad
A-Rod once shunned rumors of his sexuality
Rumors about Aaron Rodgers being gay spread like wildfire back in the day. The Green Bay Packers quarterback himself had to step in to clear out the air. "Yeah, I'm just going to say I'm not gay. I really, really like women. That's all I can say about that." Rodgers adds, "Well, I mean, there's always going to be silly stuff out there in the media that you can't worry too much about, and I don't. We just keep on trucking, and I like the way my… I think there should be professional is professional and personal is personal, and that's just how I'm going to keep it." 
ADVERTISEMENT
Article continues below this ad
The QB later went on to date celebrities like Olivia Munn, Jessica Szohr, Danica Patrick, and Shailene Woodley. He was a busy man lately, until his breakup with Woodley.
Watch This Story: Colin Kaepernick's Greatest Achievement Might Be This Award Associated With Muhammad Ali and Handed to Him By Beyonce