Steelers Coach Mike Tomlin Laments 'Unacceptable' Performance Against Ravens
Published 12/03/2020, 4:11 PM EST
---
---
Pittsburgh Steelers head coach Mike Tomlin vents it all out in a press conference held post the Steelers-Ravens game. Pittsburgh won the game, but the manner in which they won, was what made Tomlin lose his otherwise cool demeanour. The Steelers barely crossed the line against the Ravens with a score margin of 19-14, the win really disappointed him.
ADVERTISEMENT
Article continues below this ad
While talking to the press, he doesn't even sound like they won the game, his disappointment sounds more like they lost.
ADVERTISEMENT
Article continues below this ad
"To be bluntly honest, I'm really disappointed in our performance tonight," Tomlin said. He further added, "We did enough to win tonight, that's all."
Coach Mike Tomlin expects more from his high-flying Steelers players
On being asked directly what disappointed him the most, Tomlin just burst open. He vented it all out. He did not spare his undefeated team, not one bit.
"It was in all three phases," said Tomlin. his team moved one point up from 10-0 to 11-0. "We couldn't run the ball effectively when we needed to. We dropped too many significant passes, very capable, makable passes, we didn't make significant plays in the special teams' game. Our kickoff coverage unit wasn't good enough. We turned the expletive ball over, we gave up big plays in critical moments on defense. Can't have it."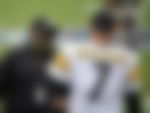 "They converted a long run on a possession down before the half. Unacceptable. They have a 70-yard late in the game. Unacceptable. We're fortunate tonight. It's good to proceed with the victory. I acknowledge that. But not a lot happened tonight to be proud of or to be excited about other than that." coach Mike Tomlin told the press.
ADVERTISEMENT
Article continues below this ad
The Steelers made a lot of errors throughout the game. The offense dropped 5 passes. They even turned out to be extremely disappointing in the red zone, specifically in the first half of the game. They failed to score touchdowns in three attempts and they wasted their trip to the red zones.
"We make no excuses, We seek no comfort. We didn't play well, coach well tonight," said Tomlin, utterly disappointed.
ADVERTISEMENT
Article continues below this ad
He ended the interview by saying that he knows his team is good and they do not need any changes what they need is to coach and play better. He hopes to see his team perform better on Monday night.