Pittsburgh Steelers HC Mike Tomlin Drops Update on When Top Draft Acquisition QB Kenny Pickett Will Debut
Published 05/01/2022, 8:03 AM EDT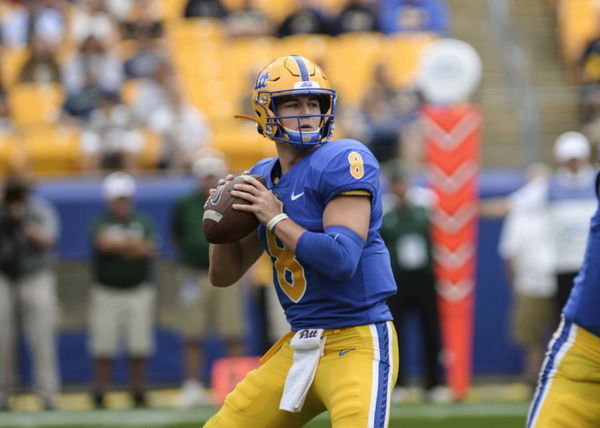 In a bloated AFC Conference, emerging as a rookie quarterback is no straightforward task. It is a heavy commitment for anyone to set the pace and command the opening assault force. Although it looks like Mike Tomlin is all in taking the gamble. The Pittsburgh Steelers' GM has hinted that Kenny Pickett would begin the squad's opening game for the 2022 season.
Kenny Pickett is someone who garners immense popularity due to his hand measurement at the Combine this year. The hand size of the Pittsburgh athlete is the smallest among other athletes. However, it didn't deter him from hoping for a franchise to acquire him throughout the draft.
ADVERTISEMENT
Article continues below this ad
Pittsburgh Steelers GM Mike Tomlin revealed little on the possibility of Pickett being on the roster pretty much immediately during an appearance on NFL Network during the sixth round of the draft. Mike acknowledged Pickett to be the most pro-ready quarterback in the draft. However, is he ready to debut in Week 1? Reporters asked Tomlin if it made him a viable contender to edge over offseason pick Mitch Trubisky and backup Mason Rudolph.
Tomlin goes, "He certainly has a chance. I agree with that sentiment of his readiness from a professional perspective. It was two things that really attracted us to him from a floor standpoint."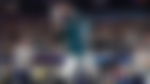 "We thought he had pro-level anticipation, we thought he had pro-level accuracy. Oftentimes, those are two variables that really require a lot of adjustment from a quarterbacking standpoint. We felt he came ready-made in those ways and hopefully that's an asset to him in terms of being able to compete and being ready if performance dictates it." 
ADVERTISEMENT
Article continues below this ad
Following the retirement of Ben Roethlisberger and the horrific tragedy of Dwayne Haskins, quarterback Kenny Pickett joins the race alongside offseason recruit Mitchell Trubisky and backup Mason Rudolph.
Did Pittsburgh Steelers pull off a major heist with Kenny Pickett?
In a spectacular 2021 campaign, they selected the 23-year-old placed third in Heisman Trophy voting and first-team All-American after throwing for 4,319 yards and 42 touchdowns, both university milestones.
ADVERTISEMENT
Article continues below this ad
Kenny Pickett doesn't need a reintroduction to his environs, and he won't have to move his possessions far when he heads to Heinz Field. The place where he has played college football for Pitt for the previous 5 years. He has been the only play-caller taken during the first round of the NFL Draft on Thursday night, going 20th overall to the Steelers. During his rookie campaign with the Steelers, Pickett will don No. 8.
Watch This Story: 'That Is Not Happening': Chiefs' Newest Acquisition and Tiktok Star Juju Smith-Schuster Won't Collaborate With Jackson Mahomes