Steelers HC Mike Tomlin Has a Stern Response to Chase Claypool's Practice Suggestion
Published 12/01/2021, 6:57 AM EST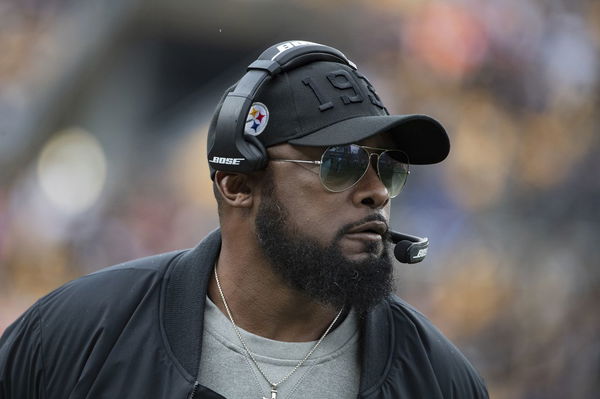 Pittsburgh Steelers wide receiver Chase Claypool has new suggestions for practice. After losing 41-10 to the Cincinnati Bengals, the Steelers are looking for a new way to improve their game. Mike Tomlin has pulled the Steelers to third in the AFC North table. There is a two-win gap between them and the second-placed Bengals. 
ADVERTISEMENT
Article continues below this ad
Mike Tomlin wants discipline in his practice
ADVERTISEMENT
Article continues below this ad
Chase Claypool has a request for improving their practice and getting better results. Claypool wants to make practice more fun. "We have music in the warm-ups and that, so it's fun," said Claypool. "People are dancing, having fun. So I think maybe music would make practice a little more fun. " 
Music has the energy to make everything enjoyable. If the Steelers do bring music into practice, maybe it will improve their game. Everybody would have a fun mindset and they will be motivated to do more. 
Pittsburgh Steelers head coach Mike Tomlin was asked about this suggestion during the week 13 press conference. He advised that Claypool should continue to focus on the game and playing wide receiver. 
"Claypool plays wideout. I'll let him do that," Tomlin continues, "I'll formulate the practice approach and I think that division of labor is probably appropriate." It is clear that the head coach wants his team to be disciplined. He wants Chase to focus on playing wide receiver rather than a DJ. The Steelers need to focus on practice and winning the games.   
ADVERTISEMENT
Article continues below this ad
Steelers recent performance
The Steelers have won 5 matches and lost 5 as well. They have lost their last two games and drew the one before that with the Detroit Lions. The latest loss was a defeat by the hands of the Bengals in week 12. In week 11, they lost a close bout against the Los Angeles Chargers. They only lost by 4 points with the Chargers winning 41-37.
ADVERTISEMENT
Article continues below this ad
They still have six more games left in this season. Their next opponent are the Baltimore Ravens who are in top form. The Ravens currently lead the AFC North division with 8 wins. Defeating the Ravens will not be an effortless task for the Steelers. If they are able to improve their game, they can still make it to the playoffs.