Popular Analyst Claims Mac Jones is a Better NFL Prospect as Compared to Tua Tagovailoa
Published 02/26/2021, 8:56 AM EST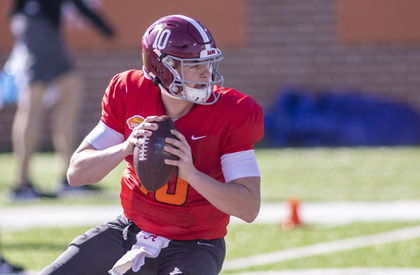 ---
---
Legendary college coach Nick Saban led the Alabama Crimson Tide Football Team to the CFP National Championship earlier this year. This was his 7th National Championship win, his 6th with Alabama.
ADVERTISEMENT
Article continues below this ad
There were a number of Alabama players who grabbed headlines last season. Wide Receiver De'Vonta Smith went on to the Heisman Trophy while quarterback Mac Jones finished as a finalist.
However, it is the latter who is attracting a lot of attention in the build-up to the 2021 NFL Draft. He finished the 2020 season throwing for 4,500 passing yards and 41 passing touchdowns.
ADVERTISEMENT
Article continues below this ad
The 22-year-old Mac Jones is expected to get picked in the 1st round itself after the likes of Trevor Lawrence, Zach Wilson, and even Justin Fields. But is the 2-time National Champion better than former Alabama superstar, Tua Tagovailoa? Popular NFL analyst compares Mac Jones to Dolphins QB Tua Tagovailoa
Popular American analyst Chris Simms appeared on the latest segment of The Dan Patrick Show. He went on to give his initial assessment of Mac Jones while even comparing him to Miami Dolphins quarterback Tua Tagovailoa.
He said, "Mac Jones is a better prospect than Tua. Mac Jones is going to go in the Top-10. From just what I've seen right now, I'd be shocked. I think there's gonna be 4 probably in the Top-8, just a base comment right now.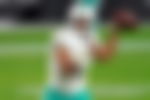 "Now some of the people in the media are talking to people in the NFL, who have just started to turn on the film. And they're going, 'This Mac Jones guy, all he does is throw spirals, perfect throws, NFL type throws, he can change his arm angle and do those types of things,' and I think that's why you're kind of hearing that chatter right now," Simmons said on the show.
ADVERTISEMENT
Article continues below this ad
Tagovailoa finished his rookie season with a 6-3 record, throwing for 1,814 yards and 11 passing touchdowns. He is expected to be named the first-choice starter for the Dolphins heading into the 2021 season.
But with rumors linking Deshaun Watson to Miami, it remains to be seen if Tua could be offloaded in the coming weeks.
ADVERTISEMENT
Article continues below this ad