Positive News for Jacksonville Jaguars Ahead of 2022 NFL Season
Published 12/20/2021, 12:48 PM EST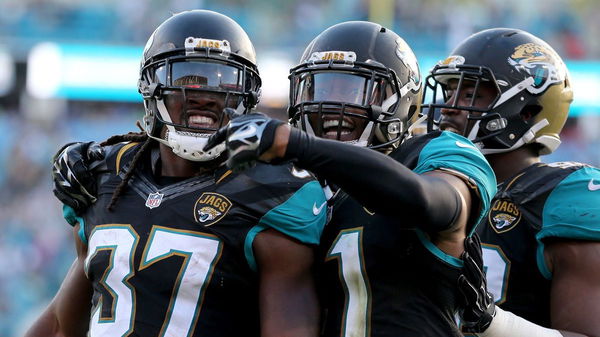 ---
---
The Jacksonville Jaguars lost their Week 15 matchup against the Houston Texans. And the Detroit Lions demolished the Cardinals 30-12. With that, the Jacksonville Jaguars get to make the first claim in NFL Draft 2022. That being said, they now have the first pick in the NFL Draft for two consecutive seasons.
ADVERTISEMENT
Article continues below this ad
During the 2021 NFL Draft, the Jaguars picked Trevor Lawrence as their first overall pick. And so this year their primary focus won't be on quarterbacks. The 2-12 Jaguars currently have the worst possible record so far this season. And if they continue to lose their remaining three games, they as well get to enter the NFL Draft with the No. 1 pick overall yet again.
ADVERTISEMENT
Article continues below this ad
Jacksonville Jaguars expected to have No. 1 Draft pick in 2022
The Detroit Lions who were expected to have the worst possible start to the season have snapped off from their losing streak this week. Making Jaguars the worst team of the season. The Detroit Lions might get the second pick if they lose their next three games. At the record of 2-11-1 this season, will the Lions pick next? Only time can tell.
The third pick in the draft has been a tie between the 3-11 Houston Texans and the 3-11 New York Jets. It is believed that the Texans might be favored to be the next pick. That leaves the Jets with the fourth. Furthermore, the 4-10 Giants might be picking up fifth, and the Bears at 4-9 might make the sixth.
ADVERTISEMENT
Article continues below this ad
However, the Bears traded their spot to the Giants for Justin Fields this year. Hence the Giants will be picking up both the fifth and sixth overall. The 5-9 Panthers will be having the seventh pick overall followed by the 5-8 Seahawks who will be picking in at No. 8. However, the pick will be going to the Jets because of the trade of Jamal Adams.
ADVERTISEMENT
Article continues below this ad
The 6-8 Falcons are up for the No. 9 pick, while four teams with a 6-7 record are currently tied for the tenth spot. However, the weeks ahead will only decide what number of picks will the Eagles, Vikings, Washington Football Team, and Raiders will get.