"Pretty Special Player"- Buccaneers' Head Coach Bruce Arians Praises Tom Brady After Reaching Milestone
Published 12/27/2020, 2:30 PM EST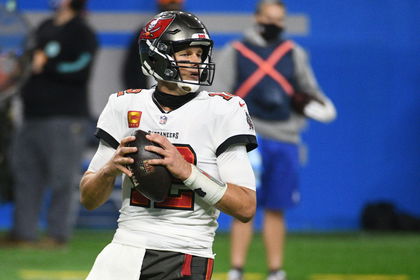 ---
---
Tom Brady just put forth a clinical performance against the Detroit Lions. The Tampa Bay Buccaneers' star quarterback had a classic performance that was reminiscent of his prime with the New England Patriots.
ADVERTISEMENT
Article continues below this ad
Brady's show-stealing game was made even sweeter for Buccaneers, as the win solidified their playoff spot in the NFC, with a 10-5 record.
Tampa Bay Buccaneers head coach Bruce Arians spoke to the press ahead of their final regular-season game against the Atlanta Falcons.
ADVERTISEMENT
Article continues below this ad
When asked about Brady's performance against the Lions, Arians praised Brady's amazing first-half performance that secured the victory for the team and called him a solid player.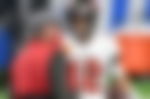 He said, "It was great. Anytime you have a 158 quarterback rating and over 300 yards in the half, back to back it is pretty special. He is a pretty special player." 
Brady's game against the Detroit Lions was his 300th NFL game. In addition to this, he made more history by recording 34 passing touchdowns for the season. He usurped Jameis Winston as the quarterback with the most passing touchdowns in the Buccaneers' history.
Tom Brady makes history
Brady had an excellent game. He only played for the first half. During his first-half masterclass, Brady recorded 22 completed passes from the 27 he attempted.
And he threw for 349 yards, averaging 12.9 yards per pass. In addition to his passing accuracy, he even threw 4 touchdowns during the game.
Bruce Arians will hope that Brady continues to perform the way he did against Detroit. The relationship between the two has been heavily scrutinized.
Arians has openly criticized Brady for not playing the way he wanted him to on multiple occasions. His approach to Tom Brady differs wildly from Brady's Patriots coach, Bill Belichick. He never openly criticized Brady and let him do whatever he needed to do to get the win.
ADVERTISEMENT
Article continues below this ad
However, in recent weeks, the relationship between the two has improved. There were rumors that Brady and Arians were attempting to settle their differences with each other.
And since then, the Buccaneers have been able to perform much better, especially with Brady leading the charge offensively.
ADVERTISEMENT
Article continues below this ad
It remains to be seen how Brady will perform during the Playoffs. Historically, Brady has stepped up before he moves into the Playoffs and could be the X-factor for the Buccaneers in the post-season.