Tom Brady, Lamar Jackson & More: Pro Bowler Robert Griffin III Reveals His Top 6 MVP Candidates For 2021 NFL Season
Published 10/18/2021, 8:00 AM EDT
---
---
Former NFL quarterback turned analyst Robert Griffin III has revised his previous list of possible NFL MVPs this season. After six games, Griffin makes his top six picks based on their winning performances in the league so far. From Tom Brady to Lamar Jackson and Arizona's Kyler Murray, this list will surprise you.
ADVERTISEMENT
Article continues below this ad
His list of MVPs seems to be very strong and well backed up with eminent influential displays during their previous games in the regular season.
ADVERTISEMENT
Article continues below this ad
Robert Griffin III names his favorites
Six games down the 2021 season, the players have now started to take shape according to their current forms, and it seems pretty clear who will be the last one standing. Griffin's top six picks have made quite an outstanding statement with influential winning streaks and a never-back down kinda attitude.
Follow the list below that unfurls the picks one by one in reverse order, and no Tom Brady isn't at rank 1.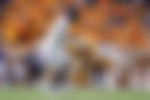 #6 Josh Allen
Josh, though, hasn't played his sixth game, yet has already made it to the list because of his impactful performances following his first-week loss against the Steelers.
The Buffalo Bills quarterback outperformed Mahomes in his previous match against the Chiefs, leading his team to victory. Josh will be looking forward to extend his three-game winning streak against the Titans today as well.
#5 Dak Prescott
The Dallas Cowboys quarterback has delivered in each of his outings after the first week's tragic loss against the Tom Brady led Buccaneers. Since then Prescott has defeated beasts like Justin Herbert and Sam Darnold in his second and fourth week, respectively. The Cowboys are very much dependent on the starting QB for his influential role in playing well under pressure.
#4 Tom Brady
The Griffin list seems to be incomplete without the 'Timeless Tom Brady' as he makes it to the list the second time as well. And why wouldn't he? Brady has been absolutely destroying the stats table one game after another.
Tom Brady looks like he hits an all-time high every season he appears in, as if he is literally aging backward. He has scored a win against strong opponents like the Cowboys and the Rams, currently leading his team with a 5-1 stance in the league.
#3 Lamar Jackson
The 2019 NFL MVP is aiming at the MVP honors once again this season as he makes sure no one comes between him and his win. After an unfortunate overtime loss against the Raiders in the season starter, the quarterback has sealed a victory against all the opponents that followed, including Patrick Mahomes and even Justin Herbert.
The Ravens seem to have a clear vision to make the playoffs this season with the likes of Lamar Jackson.
#2 Kyler Murray
Kyler Murray is a must-have in the list of top candidates for the NFL MVP this season, as after six games, no team in the league has managed to seal a victory against them. Leading the only undefeated team in the NFL so far, Murray has claimed the honors of being the most influential quarterback this season.
Going 6-0 up and showing no signs of slowing down, the Cardinals have a big chance of winning the Super Bowl.
#1 Trevon Diggs
Trevon Diggs holds the numero uno spot in Griffin's list of top MVP contenders this season. And also he is the only non-quarterback on his list. The Dallas Cowboys cornerback is on an interception spree this season. He claimed his seventh in his game against the Patriots in week 6.
ADVERTISEMENT
Article continues below this ad
He became the first player in the Super Bowl era to have at least seven interceptions and return multiple pick-sixes in his team's first six games of the season.
Way too early NFL MVP Watch:
1-Trevon Diggs
2-Kyler Murray
3-Lamar Jackson
4-The Timeless Tom Brady
5-Dak Prescott
6-Josh Allen

— Robert Griffin III (@RGIII) October 18, 2021
ADVERTISEMENT
Article continues below this ad
As the league progresses to its seventh week, the competition among these players is going to get interesting. It is a treat to watch them play at this level. Every week they produce something unimaginable and take the world of NFL by storm. Let's see what they produce in their next matchup.